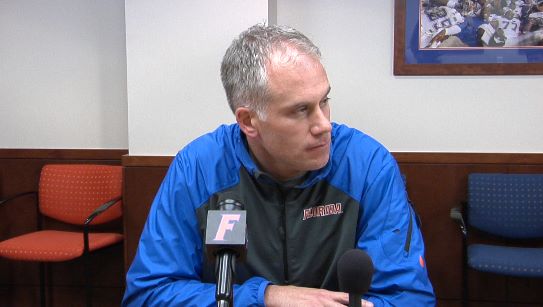 The Florida Gator football team is gearing up to welcome SEC East foe Missouri to the Swamp this Saturday. The Gators are coming off a 30-27 loss to LSU where Florida's defense surrendered 305 total yards.  Gator defensive coordinator D.J. Durkin discussed areas he'd like the team to improve upon before facing Mizzou this weekend.
Last year, Tigers quarterback Maty Mauk threw for 295 yards in his first career start against the Gators.  Durkin says he's a player Florida needs to watch out for.
"He's extremely dangerous; he can create plays on his feet. He threw the ball rolling out to his left for 70 yards down the field against Georgia. When you have a guy that can do that, it definitely opens your eyes."
Mauk's ability as a scrambler also concerns Durkin. He emphasized how crucial it is for the Gators to keep him in the pocket.
"It's very important, because once he gets out of the pocket; now your defense starts to break down and then he has a run pass option and you have to stay in coverage because he's not just a scrambler. He can throw the ball too and he throws it on the run. When he scrambles, he's still looking down the field to throw it. So, we need to contain him, keep him in the pocket; and we also have to stay in coverage down the field when he does scramble."
In last weekend's match up against Georgia, Mauk had four interceptions, a lost fumble, and four three-and-outs in a dismal 34-0 loss to the Bulldogs. But despite some mistakes, he still poses a threat for the Gators.  
Overall, the defense has had its fair share of mishaps this season, and it will need to step up in its return to SEC East play.  Redshirt sophomore defensive lineman Alex McAllister has been a guy who has done just that.  
"He's growing into things and I think he has a better understanding of what we're doing defensively and has more confidence in what he's doing; his opportunities have continued to grow because he's done well, so we're expanding his role every week."  
However, McAllister isn't the only player that's emerged this season; junior linebacker Antonio Morrison has also made a tremendous impact on the squad.  
"I think Antonio is playing great," Durkin said. "He's playing his best football since he's been here. He's a guy that takes his job and what we do very seriously. He puts a lot of time into it. He spends a lot of time outside from when he has to be here for meetings and practice, and I think it shows in how he plays."
Meanwhile, injury wise, defensive tackle Leon Orr is expected to return to the field after missing the last two games due to a knee injury.
"He's supposed to practice today so, we'll see how he does," Durkin added. "The guys that have been playing up front have been playing really well. I'm really happy with our rotation up front and obviously bringing him back just adds one more healthy body to the rotation, which is always a good thing."
Sophomore All-American cornerback Vernon Hargreaves III is also good to go after sustaining a minor head injury on Saturday against LSU.
The squad will continue  its race for the SEC East this Saturday. Kickoff for the Gators homecoming game is scheduled for 7 PM with pregame coverage beginning at 3 on ESPN 850 WRUF.
For audio on the above quotes, click below:
Durkin on lack of communication
Durkin on Alex McAlister's play