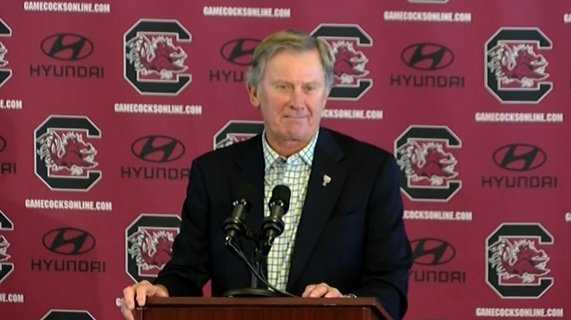 "I am resigning, I'm not retiring. Let's get that part straight."
South Carolina head football coach Steve Spurrier officially resigned earlier today at his weekly press conference. Spurrier and the Gamecocks have struggled early on this season with a 2-4 record (0-4 in the SEC). The head coach stated that he believed it was time to step down and allow someone else to begin rebuilding the program immediately.
"We've slid and its my fault. I'm responsible. I'm the head coach, and its time for me to get out of the way and let somebody else have a go at it," Spurrier said.
Spurrier coached at South Carolina for 11 seasons and his overall record is 86-49 at the school. The winningest coach in South Carolina history says that he made his decision after the team's 45-25 loss to LSU Saturday. He believes an immediate change will benefit the program in the long-run and felt his time had come and that he was no longer the best coach for the Gamecocks.
"When something is inevitable, I believe you do it right then," Spurrier said.
The Gamecocks play at home against Vanderbuilt Saturday, and Shawn Elliott has been named interim coach.
Spurrier also leaves an impressive legacy at the University of Florida. He was not only a Heisman Trophy winner as a player, but he was also the coach of Florida's first national championship team in 1996. The former quarterback had quite an impact on many of his players, including quarterbacks Shane Matthews and Noah Brindise.
Mattews says that it's hard to see Spurrier leave college football.
"Let's be honest, South Carolina wouldn't be South Carolina right now if Steve Spurrier hadn't been the coach there the last 11 years…it's tough for me, being a former player. He's touched so many of our lives and done so much for us. It's just hard to see him walking away."
Brindise will miss seeing Spurrier on the sidelines as well.
"For those of us who are very close to him, it's a  bittersweet day… it's going to be totally different not having a Saturday in the fall where you could flip on a game and watch him."
One thing's for sure, Steve Spurrier will remain a legend.