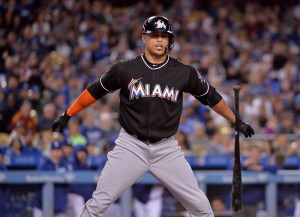 The Miami Marlins beat the Los Angeles Dodgers 3-2 Monday night with the help of Giancarlo Stanton's bat. The right fielder went 2-3 on the night with a home run and a double batting in two runs on the night. 
Stanton's solo home run came in the top of the 4th-inning after three scoreless innings were pitched by Dodgers rookie, Ross Stripling. With the long bomb, Stanton's fifth of the year, the Marlins took a 1-0 lead but the Dodgers had long bombs of their own — two of them.
In the bottom of the fourth-inning, Wei-Yin Chen threw a 84-mph slider to Dodgers right-fielder Yasiel Puig who hit a homer on a line drive to right field to tie the game. Three batters later, Dodgers center-fielder Trayce Thompson came to the plate. Chen threw Thompson a 94-mph fastball, which he drilled to left-center field for his first home run of the season.
2-1, Dodgers.
Stanton came back swinging in the top of the 5th-inning. He doubled on a sharp line drive to right field allowing left fielder Christian Yelich to score, which tied the game at 2-2.
The Marlins scored the go-ahead run in the top of the sixth inning when Marlins' third baseman Derek Dietrich tripled to center field allowing catcher J.T. Realmuto to score the final run of the game. 3-2, Marlins—Fish win.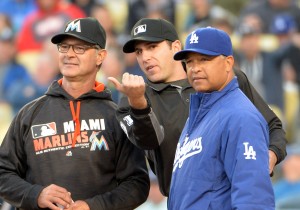 The Marlins traveling to LA marked Marlin's manager Don Mattingly's first time visiting Dodgers stadium as an opposing manager. Mattingly managed the Dodgers from 2011-2015.  Mattingly says returning to LA was a nice experience besides feeling like his team didn't show improvement during the game.
However, Stanton says he feels like the last couple of  games, his team has been tough to defend from the top of the line up to bottom. 
The Marlins and Dodgers play again tonight starting Tuesday night at 10:10 p.m. The Dodgers left hander Clayton Kershaw (2-0, 1.50 ERA) will face Marlins right-handed pitcher Tom Koehler (1-2, 4.80 ERA).