The James Harden and Chris Paul experiment is off to a great start.
The Rockets stunned the Warriors on opening night by a final score of 122-121. It had appeared that Kevin Durant had won the game on the last shot but video review determined that the ball was still in his hand while time expired.
Never Gave Up
The Rockets had been trailing all night, trying to keep pace with the high-scoring Warriors offense. Houston was able stay in it thanks to a 27 point performance from James Harden. He wasn't by himself though as it was Trevor Ariza who pulled the Rockets within one with a three-point shot with two minutes to go.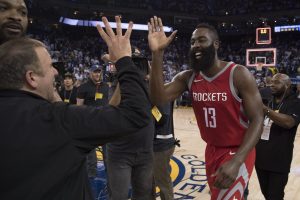 The bench was the difference as Houston had three players to score 14 points or more. Luc Mbah a Moute scored 14 points while P.J. Tucker and Eric Gordon had 20 and 24 points respectively.
Newly acquired All-Star Chris Paul will be happy with the result but will most likely not be the same with his individual performance. Paul was two of nine from the floor, scoring only nine points. While the Warriors usually try to beat you with their deadly outside shooting, the Rockets had the edge with points down low. Houston outscored the defending champs in the paint 54 to 32.
Celebration Cut Short
Before the tip, the Golden State had one more celebration for it's 2017 NBA championship. Players received their rings and lifted another banner to the rafters. Once the game began, the offense came from a surprising source. Newly acquired Nick Young scored a team-high 23 points after making six of his seven three-point shot attempts.
https://twitter.com/warriors/status/920504375734341634
Down the stretch the Warriors were without big man Draymond Green as he left with a sprained left knee. Green was one point away from a triple-double as he scored nine points, grabbed 11 rebounds and dished out 13 assists.
One Down, 81 More to Go
Losing the season opener is nothing new to the defending champions as they also lost their first game last year to the San Antonio Spurs.They will be looking to get their first win of the season Friday night when they travel to play the New Orleans Pelicans.
For Houston, they will waste no time trying to get to 2-0 as they will be back on the floor tonight facing the Sacramento Kings on the road.