The Oakland Raiders have announced 13 new assistants to aid Jon Gruden in his return as head coach. The new hires are below, with their names and job titles listed.
Raiders announce 13 assistants hired to Jon Gruden staff. No quarterbacks coach; team not expected to add one, given Jon Gruden's influence at position. Longtime scout Dave Razzano named director of football research. pic.twitter.com/NmzTplsSvW

— Michael Gehlken (@GehlkenNFL) January 18, 2018
Ten of the 13 assistants are new to the organization.
Nick Holz is entering his seventh season with the Raiders after spending last season as an assistant wide receiver's coach.
Travis Smith, too, enters his seventh season in Oakland. He previously worked several defensive coaching jobs for the organization.
Tom Cable is returning to Oakland for his second stint with the team after spending his last seven seasons with Seattle.
A need for change
After much speculation from the fans and media, the Oakland Raiders announced a replacement for Jack Del Rio. On Jan. 6, the Raiders announced that Jon Gruden would return as the head coach for the Raiders.
Gruden inherits a Raiders team that struggled last season, finishing 6-10 and third in the AFC West.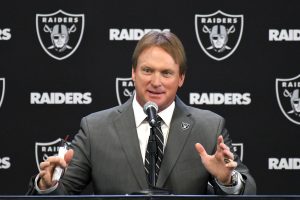 Exciting times for the Raiders
Gruden's assignment as the head coach has generated a lot of excitement for Raiders and football fans alike. Gruden's success in the league teemed with his charisma has a lot of fans of the NFL excited for next season. With Gruden's 10-year contract with Oakland, they have something to be excited about for years to come.
Gruden was eager to come back and says he never wanted to leave the team.
Gruden says the fans supported him when he hadn't yet made a name for himself, and for that, is forever grateful.
Gruden's coaching history
In his first stint with the Raiders, Gruden coached his team to a .594 winning percentage before joining the Buccaneers for the 2002 season. He stayed in Tampa for seven years and kept a winning percentage of .509.
In his very first season in Tampa, he led the Bucs to a Super Bowl victory over his Oakland Raiders, then coached by Bill Callahan.
For more information about the newly hired assistants visit the Raiders official website.