The New York Mets named Mickey Callaway the 21st manager in team history in October 2017. The rookie manager traded in his navy blue, red and white jersey for an orange and blue one. He replaced Terry Collins, whose contract ended at the end of a disappointing 2017 season.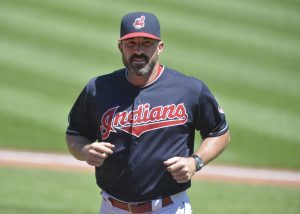 The 42-year-old was the Indians pitching coach for five seasons, "guiding a pitching staff that led the Majors in team ERA (3.30), strikeouts (1,614), strikeouts per nine innings (10.1) and Wins Above Replacement (31.7), according to Fangraphs, in 2017 — the latter three categories all MLB records." According to the MLB, in the past four seasons, Indians pitchers have led the American League in strikeouts.
Wednesday will be the first workout for Callaway's pitchers and catchers. Callaway said he is dedicated to this team and the players at his first spring training press conference Tuesday.
"[The players] want to go out there and do whatever it takes. When you get a group like that, you can do something special," Callaway said. "If we don't do something special with the things we have in place, it's going to be on the leadership of that. And that is going to be on me. I am going to work tirelessly every day for each and every one of them to be the best I can be and help them be the best they can be."
And the players agree. Steven Mattz said as a pitcher, it's a privilege to work under the new manager.
Reliever Anthony Swarzak said Callaway's coaching style is versatile.
Last season the Mets went 70-92. Callaway says he senses the team believes they deviated from the norm last year. And the Mets can compete at their 2015 and '16 levels.
"They look to their left and look to their right and they know they can contend," Callaway said. "We have the players to do it. It has become very evident in my time in Port St. Lucie, I have spent time with our coaching staff, time with our players, it is very evident we are prepared in every way to go out and do something special."
The Mets host the Atlanta Braves Feb. 23 to open their spring training season.
https://twitter.com/Mets/status/963498185300889603