For their last regular season game, the Mississippi State Bulldogs will head over to the bayou this weekend to face the LSU Tigers.
Both teams are coming off losses with Mississippi State's against ranked Tennessee 76-54 and LSU's to South Carolina 83-74. So winning this game could be a confidence booster for either team heading into the SEC tournament next week.
Mississippi State's Season
As mentioned before, the Bulldogs are coming off a tough 22-point loss to the Tennessee Volunteers, but other than that, they have had a solid season. Right now they are 21-9, 9-8 in conference play and ranked 6th in the SEC. Before their loss to Tennessee, the Bulldogs were on a three-game win streak where they took down Ole Miss 79-62, Texas A&M 93-81 and South Carolina in OT 72-68.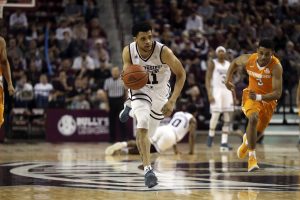 However, even with their accomplishments and record, a big obstacle for the Bulldogs this season has been their performance on the road. Right now they are 2-7 away while being 18-2 at home.
Even with the odds stacked against them, the last time these two teams met was during the 2017 SEC tournament and the Bulldogs toppled the Tigers 79-52.
Team Stats
Currently, the Bulldogs are averaging 74.6 points, 36.7 rebounds and 13.5 assists per game while only allowing 67.4 points. Their team leader in points per game is junior guard Quinndary Weatherspoon with 14.8 while freshman forward Abdul Ado leads in rebounds per game with 6.6.
LSU's Season
Just like their final regular season opponent, the Tigers suffered a tough loss to South Carolina this week. After being down 15 points in the last nine minutes of the second half,  the Tigers made a huge push and tied up the game to send it to OT. However, they were not able to come out on top and right now they are riding a two-game losing streak.
The complete recap and video and audio highlights of LSU's tough loss in overtime at South Carolina Wednesday.https://t.co/Y8OkpBqFJo

— LSU Basketball (@LSUBasketball) March 1, 2018
They are 16-13 on the season, 7-10 in conference play and ranked 10th in the SEC, but they do have an advantage. The Tigers are 12-4 at home and are hosting a team that has struggled significantly on the road this year. Could the Tigers pull off the win and snap their losing streak?
Team Stats
Right now, the Tigers are averaging 77.6 points, 33.6 rebounds and 14.2 assists per game while allowing 74.3 points. Their team leader in points per game is freshman guard Tremont Waters who is averaging 15.7, while senior forward Aaron Epps leads in rebounds with 5.8 per game.
Looking Ahead
The Bulldogs and Tigers will face each other Saturday afternoon in Baton Rouge. Game time is set for 1 p.m. and it will air on the SEC Network.