Oak Hall's boys tennis team grabbed an impressive win Thursday evening. The Eagles defeated the Seven Rivers Christian Warriors 7-0, winning five singles matches and two doubles matches. The Eagles controlled the meeting from start to finish, only surrendering five total sets all evening.
Oak Hall entered the court following a big win for the girls tennis team; they blew out Seven Rivers and walked away with a 7-0 victory. The boys team would keep the momentum going with a dominant evening of their own.
Taking Care of Business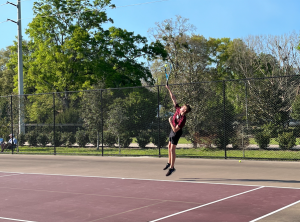 The Eagles started out their day with a doubles match. Oak Hall's Andrew Powell and Grant Powell went up against Seven Rivers' Mario Aguilera and Carmelo Cordero. The Powell brothers both had impressive days all around. They won their doubles match 4-1,4-0 and went on to each win their singles match 4-0,4-0. Grant credited the duo's success to their level-headedness and style of play.
"[We were] really just focusing on our shots and playing smart," Grant Powell said.
Andrew also noted how the pair started off hot and kept their momentum going throughout the day. This level of consistency carried over to the rest of the team as well.
"I'd say we were dominant from the start. We let one game go in the doubles match, but other than that, it was pretty steady… in both singles and doubles."
After the Powells' kicked things off, the rest of the Eagles put forth an incredible outing in their singles matches. From powerful serves to perfectly timed shots that caught their opponents off-guard, the Eagles controlled every facet of today's meeting. It ended up being one of their finest outings this season, as they won all of their matches in both singles and doubles.
Sophomore Ayden Gallogly hits a hard serve that his opponent is unable to return in bounds. Gallogly won his singles match 4-1, 4-0. pic.twitter.com/tJGIwSVpOX

— Jack Meyer (@jacklmeyer10) March 17, 2022
Rory Blynn sneaks in a nice shot during his 4-1, 4-1 victory in singles. pic.twitter.com/hOYwdT5jMi

— Jack Meyer (@jacklmeyer10) March 17, 2022
Singles Results
Andrew Powell defeated Mario Aguilera 4-0, 4-0.
Anish Veerapaneni defeated Carmelo Cordero 4-1, 4-0.
Ayden Gallogly defeated Charlie Leonard 4-1, 4-0.
Grant Powell defeated Paul Speaks 4-0, 4-0.
Rory Blynn defeated Byron Cole 4-0, 4-0.
Doubles Results
Andrew Powell and Grant Powell defeated Mario Aguilera and Carmelo Cordero 4-1, 4-0.
Ayden Gallogly and Anish Veerapaneni defeated Charlie Leonard and Alex Eden 4-0, 4-0.
A Break in the Action
The Eagles will get some time off before their next meet. They will return to the court on March 29, when they will host the Trinity Catholic Celtics.