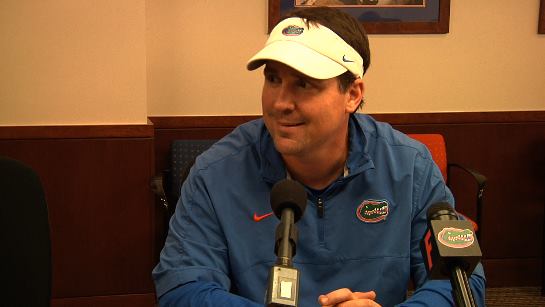 The Florida Football team opened fall training camp Monday, the first of 15 practices before the 2014 season gets underway.
After practice, Gators head coach Will Muschamp said he's excited for what he hopes is a big turnaround season for the Gators – so excited that he woke up at 3:45 a.m. after getting to bed at midnight on Sunday.
"I didn't sleep a whole lot last night," Muschamp said on returning to practice.  "Excited about getting back on the field and coaching. That's what you get hired to do. That's what I enjoy doing.  All of the other stuff, not so much, but the coaching part of it I really enjoy."
The starters/veteran players practiced early Monday morning while the underclassmen and less experienced players took the field in the evening.  Florida will hold another split squad practice today and the squad will practice in shells on Wednesday night, the first day in full pads is Friday.
"I think we are in pretty good condition," Muschamp added. "Obviously a drastic difference between the young group and the older group as far as the tempo and the number of bodies. It was tougher on the older group too because we only have two units going."
Muschamp also mentioned that he was impressed with what he saw from starting quarterback Jeff Driskel. He added that sophomore Skylar Mornhinweg, and true freshmen Will Grier and Treon Harris will be competing for the backup quarterback position which is currently a work in progress.
He added that he liked what he saw from his  punters – Kyle Christy and Johnny Townsend as well kicker Austin Hardin. He believes they've regained the confidence they lost a season ago.
"In the short time of watching them today I thought we punted the ball extremely well, Muschamp said. "Both Johnny and Kyle did, and I thought Austin kicked it well. We had one field goal situation where I think he kicked it from 41 so that was really pleasing to see."
Overall, Muschamp was thrilled by the excitement and energy the team displayed on their first day back on the gridiron since April and hopes they continue to maintain that momentum.
"Everybody is fired up Day 1. Let's see how they are Day 12," he said. "That's kind of the way I look at it. We've seen a very inspired group throughout the summer."
The Gators will hold their first open practice on Thursday at 7:30 p.m. at Dizney Lacrosse Stadium.
Muschamp on not sleeping because of excitement
Muschamp on split squad practice
Muschamp on going full pads on Friday
Muschamp on Driskel and offense