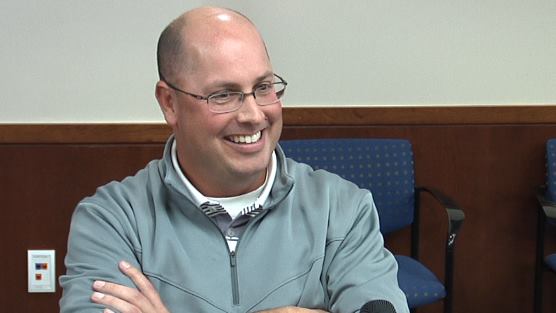 Despite much of the talk being about Florida football head coach Will Muschamp's departure, there is still football left to be played. The Gators are in the midst of preparing to take on Eastern Kentucky for their final home game of the season.  Offensive coordinator Kurt Roper and a few of the players discussed Muschamp's dismissal as well as the team's mindset heading into Saturday's match up.   
Roper took a moment to elaborate on his experience working with the head ball coach; praising Muschamp's character and the person that he is.
"I'll say this, working for Will Muschamp is unbelievable. Everything you're hearing about him is not just people blowing smoke. That's a good person number one, and I learned a lot of football from him. I learned a lot of things. Shoot, it's been a great, almost a year now. But it's been a great experience."
"To see how great of a guy he is and then to see him go, it's sad," junior defensive lineman Dante Fowler Jr. added. "He's young. I think a lot of people don't realize that. He has a bright future ahead of him and this is really only the beginning for him. This is just something that he can he can say he did. This was his dream job. He's accomplished so much and I know he will continue to do so."
Roper described what the last 48 hours have been like for the Gator coaching staff as well as the entire Florida program.
"You know, to be honest with you, it hasn't really been any different because we've got a game at the end of the week. That's what happens. You go in and obviously we had a couple of meetings that were telling us what the situation was. Those aren't easy. That's what happens. Then after that they say 'Saturday you've got to be ready to go.' So we've been in the room just like normal trying to figure out a plan to put together to win a football game and be prepared. That's the biggest thing. We still need to be prepared, so we've been in there just working, nothing's been different since Sunday."
Meanwhile, the first-year offensive coordinator gave some insight in regards to the perception that defensive-minded Muschamp handcuffed him and what he was allowed to do offensively. Roper made it clear that the rumors are not true whatsoever.
"In my experience, absolutely none of it is true. When I got here, it was completely, 'Hey do it how you see best fit.' And he doesn't call plays. You know we obviously talk about situations like the end of that game. 'Do we want to be aggressive or do we want to take the timeout and use that time?' But I'm 100% on board with any of those decisions that are made. But as far as calling plays, absolutely. He's been great he really is."
He then emphasized that the UF coaching staff's top priority is to prepare for the last two games against Eastern Kentucky and in-state rival Florida State.
"We've been in the room just like normal trying to figure out a plan to win a football game and be prepared. That's the biggest thing you know, we need to be prepared. We want to go out there on Saturday and have a plan and not look like we didn't have a plan. We're working hard to help these guys win a football game and that's our job."
The search for the Florida Gators next head football coach is on and Athletics Director Jeremy Foley says he would like to have a new head coach by Christmas time. However, Roper's future with the Gators is uncertain. Depending on who the next head coach is, he may or may not return to Florida.
While there's a lot of questions and uncertainty surrounding the program, the squad's number one priority right now is finishing strong for the University of Florida and for Gator Nation.
Kickoff for Saturday's contest against the Eastern Kentucky Colonels is slated for noon. This will be Will Muschamp last home game as well as for Florida's 22 seniors. You can catch all the pregame action on ESPN 850 WRUF beginning at 8 a.m.
For audio on the above quotes, please click below:
Roper on his experience working with Muschamp
Roper on preparing for Eastern Kentucky
Dante Fowler on Muschamp (Cont'd)