Peyton Manning will be heading to the Super Bowl for the fourth time in his illustrious career. This time however, as odd as it may be to those who have followed Manning throughout his 18 year career, Manning is playing more of a game-managing role. Manning threw for just 176 yards on 32 attempts, with two touchdowns and no interceptions in the Bronco victory on Sunday in the AFC Championship Game. Both Peyton Manning touchdowns went to tight end Owen Daniels, his only two catches of the game.
The true star of Denver's 20-18 nail-biting victory over the Patriots was a Von Miller-led defense that forced two Tom Brady interceptions, and held him to a 56.4 quarterback rating. Brady was pressured throughout the game by the Denver defense, and he felt he should've done a better job at getting rid of the ball before pressure got to him.  In Brady's defense, Von Miller terrorized the New England offensive line from the opening kick on his way to 2 ½ sacks and an interception.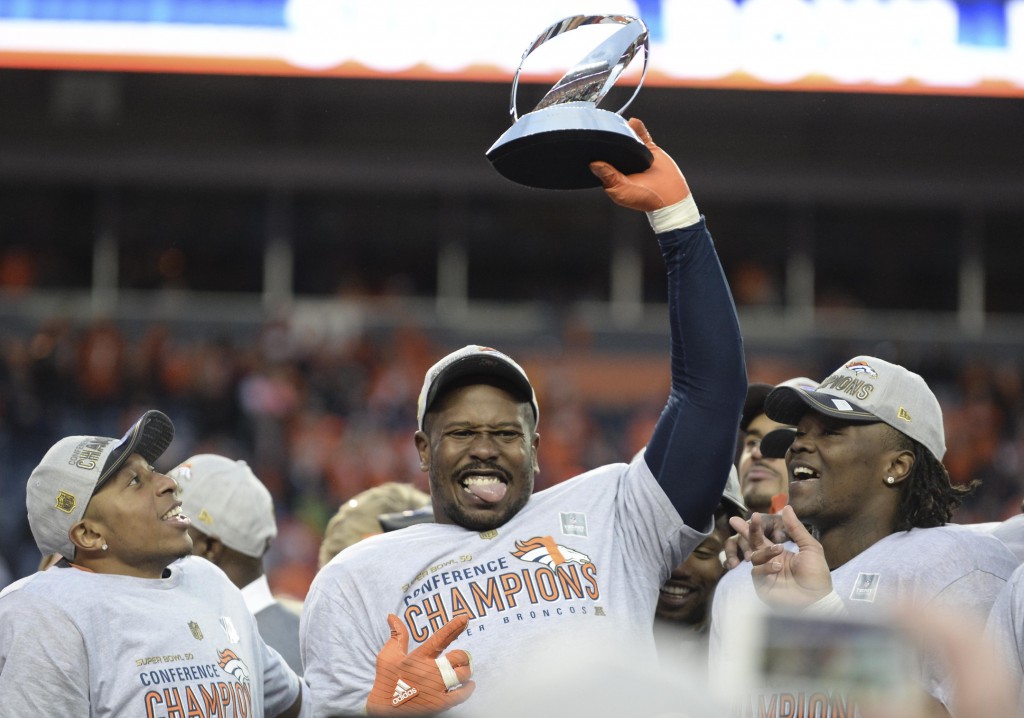 Denver defensive end Derek Wolfe was also a force, with 6 solo tackles and a sack.
On the ground, the Patriots were never able to run the ball against the Denver defense either. The Patriots were held to just 44 yards on 17 carries, with the longest run of the game belonging to an 11 yard Tom Brady scramble.
Patriot fans will look back on a missed extra point by kicker Stephen Gostkowski in the first quarter as a key in their defeat, his first miss in 524 tries.  The missed extra point forced the Patriots to go for two points after a Brady to Rob Gronkowski touchdown on fourth down with only 12 seconds remaining in the 4th quarter. Despite being double and triple covered for most of the night, Gronkowski still finished with 8 catches for 144 yards and a touchdown.
Brady attempted to get the ball to Gronkowski in the back of the end zone once again during the two-point conversion, but the pass was tipped by former Patriot Aqib Talib leading to a failed conversion. The unsuccessful onside kick by Gostkowski on the ensuing possession essentially punched Denver's ticket to Santa Clara.
Demarcus Ware, an 11 year veteran who will be going to his first Super Bowl, summarized the feeling of elation many of the Broncos felt. 
The Denver Broncos will go on to face the Carolina Panthers in Super Bowl 50 on Sunday, February 4th from Levi's Stadium.