Coming off a 44-21 win against Vanderbilt last weekend, the Kentucky Wildcats football team is looking to profit from Georgia's disappointing loss to Auburn. The Bulldogs not only lost 40-17 last weekend, but they dropped from college football's top spot to No. 7 in the polls.
In the last seven meetings between these two SEC teams, Georgia has come out on top every time.
Let's look into these two teams to better understand what's in store this weekend.
Georgia
#KeepChopping #ATD pic.twitter.com/13YGILArAv

— Georgia Football (@FootballUGA) November 14, 2017
According to ESPN, Georgia head coach Kirby Smart keeps telling the media this week that it's all about the response. In this week's SEC teleconference, Coach Smart says Kentucky is a good team and he's looking forward to playing them this weekend.
Going into this weekend, the Bulldogs seem to have one thing on their mind: beating Kentucky so they are undefeated in the SEC East. Georgia has never done this, according to Coach Smart.
There are a couple players on Georgia's roster that pose a threat to not just Kentucky, but to all their competitors: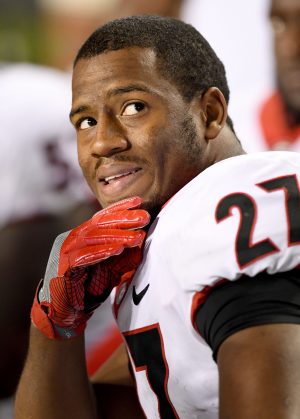 Nick Chubb: Despite the loss last week, the senior running back has run for 894 yards and 10 touchdowns this season. He's also averaging 5.9 yards per carry. He needs just 109 more yards to reach 1,000 yards for the third time in his college football career.
Sony Michel: This senior running back has run for 731 rushing yards and nine touchdowns, and averages 7.4 yards per carry. Michel and Chubb make a dynamic duo on the Georgia offense. They'll be playing mad this weekend after being shut down by Auburn's defense.
Jake Fromm: The young, freshman quarterback will try desperately to bounce back after being stopped again and again versus Auburn last weekend. Fromm was only able to complete 13 of 28 passes for a total of 184 yards.
This football program won't let one loss define the rest of the season. They know they'll be playing in the SEC Championship on Dec. 4, but who they play is still up in the air.
Kentucky
Relive Saturday's win in Music City in just 60 seconds. #GoToWork pic.twitter.com/v51wcHlIHT

— Kentucky Football (@UKFootball) November 14, 2017
There is a lot riding on this game for the Kentucky Wildcats, who are 4-3 in conference play and 7-3 for the season. The Wildcats are still looking to finish the season with 10 wins, and hopefully a ticket to a bowl game if they can win their last two games of the season.
Just like their opponent, Kentucky has a couple players who have shined this season: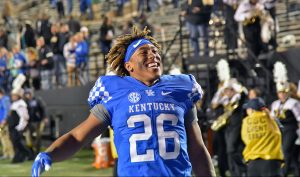 Benny Snell Jr.: The past three games, the sophomore running back has run for over 100 yards and has proven his importance to the Kentucky offense. This season, Snell has a total of 1,013 yards and 15 touchdowns, which ties Auburn's Kerryon Johnson for the top in the SEC.
Stephen Johnson: The senior quarterback stepped up this season to lead the team and embrace his role of quarterback. Last week against Vanderbilt, he completed 13 of 17 passes and threw for 195 yards.
Head Coach Mark Stoops talks so highly of his quarterback and says the team is better with Johnson on it.
Stoops also told ESPN that he has no doubt that his team will see the best out of this Georgia team.
Game Info
This game will be played on Saturday, November 18 at 3:30 p.m. EST in Athens, Georgia.
Here's where you can watch or listen to the game:
TV: CBS / Live Stream: CBSSports.com
Radio: WLAP-AM 630, WBUL-FM 98.1, XM Channel 190, Sirius Channel 138