Florida WR Xzavier Henderson goes through the changes in Florida Gators Football, and how the team will move forward.
Players First
As soon as Billy Napier was hired as head coach of the gators, he made one thing clear: the players deserve more. Under the previous staff, the team was living in suboptimal dorms and fed fast food for their meals, however, the Napier staff took a different approach.
The team now has a designated chef, as well as a new residence in The Standard, arguably Gainesville's best apartment complex. With stadium parking, hands-on coaching, and genuine care from staff as well, Florida Football seems like a new team.
Comfy living conditions don't build a winning football program, however, and Coach Napier knows that. The coaching staff at Florida is giving everything they have to these players. When it comes to the Wide Receivers, Henderson had high praise for WR coach Keary Colbert. Colbert's coaching style puts him in the action, showing players as opposed to just telling them. It has given the receiver room a new perspective on the game, and Henderson believes it is working.
Future of Gators Receivers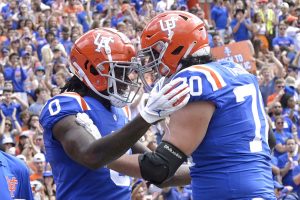 With a new staff, fans are excited to see players return and use their full potential. The 2021 season seemed like a season of wasted potential, with internal conflicts bringing the team down, and the players along with it. As a new era begins, Henderson was eager to label this season as a fresh start, with all players starting at the same level.
The WR room at Florida is nothing to laugh about. Starting players like Henderson and Justin Shorter have incredible talent, and under a proper staff, should be prepared to have a breakout season. Henderson believes that what makes the room special this season is its versatility. Having players that specialize in speed, muscle, and catching ability makes the room feel more complete. This versatility gives the coaching staff the ability to change their game plan at any time.
As the spring game nears closer, fans are excited for a taste of the new Florida Gators, and Henderson is sure that they will not disappoint.
https://twitter.com/GatorsFB/status/1509938645721128973?s=20&t=xxssyUSPcOJadg4jE-w2Xw