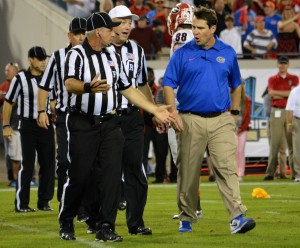 The Florida Gator football team is about a year removed from being a contender for the BCS National Championship.
Now it's just hoping to get a bid for a bowl game… any bowl game. At 4-5, the chances of that happening seem slimmer than the Gators' depth at quarterback.
With junior quarterback Jeff Driskel out for the season with a broken fibula, the Gators had to turn to redshirt-junior Tyler Murphy. Murphy has responded with six passing touchdowns, 1,216 passing yards and a 60.5 percent completion percentage.
Now it could be Murphy's turn to sit out. Gator coach Will Muschamp said it will be a game time decision to start Murphy who has a sprained shoulder.  Redshirt-freshman Skyler Mornhinweg could get his first career start against the South Carolina Gamecocks — about a month and a half after Murphy made his first career start.  Mornhinweg has taken virtually all the snaps this week in practice.
Though Jadeveon Clowney has had a statistically-down season from last year with 28 tackles and two sacks, he's still the same Clowney. He's 6-fot-6, 274 lbs, and he runs a 4.4-second 40 yard dash and he could have a big day against a banged up UF offensive group.
South Carolina's sophomore running back Mike Davis could prove to be a bigger problem than Clowney. He leads the Southeastern Conference with 1,058 rushing yards on 166 carries. He also has 10 rushing touchdowns.
After drawing boos from the Gator faithful in a 34-17 loss to Vanderbilt, Florida will have to play above its means if its season is going to end on a positive note, especially considering it's lost 10 players to season-ending injuries.
The Gators are in danger of having their first losing season since 1979 when they went 0-10-1. This is a program that competes for top-end recruits every year and last won a glass football in 2009.
A win in South Carolina could right the ship, or it would at least be a highlight of a (literally) broken season. If Florida loses, the result could be something Gator fans haven't seen in a long time — mediocrity.
ESPN 850 WRUF has coverage of the game starting at 7pm.