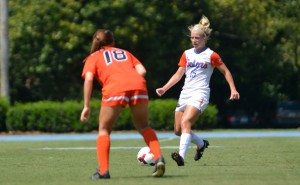 Tessa Andujar scored a wacky goal for Florida Saturday during their shutout win.
The Florida Gators soccer team opened up their bid for a second-ever national championship successfully Saturday afternoon, moving the ball efficiently and handily outshooting their opponents, in the end winning by a score of 2-0 against the Jacksonville Dolphins.
Through 25 minutes the match was a deadlock on the scoreboard but far from it on the field; Florida's quick passing left Jacksonville struggling to take possession. Much of the match in general was spent with Jacksonville defending in their own end, with Florida building scoring chances through rapid ball movement.
But Florida eventually broke through, from an unlikely source and an even unlikelier circumstance. Defender Tessa Andujar received a pass from Savannah Jordan on the far right side of the field. Andujar's attempted cross into the penalty area turned into an extremely wide-angle shot, which beat Jacksonville keeper Sarah Sierra and put Florida into the lead. The tally by Andujar was her first on the season. After the game Andujar admitted she wasn't trying to score on the play.
"I was trying to cross it, and kind of mishit it and it went in. Pretty lucky that it went in, I was excited, though." said Andujar.
"She tried to get it to the back post and I just tried to go top-hand with it," said Jacksonville goalkeeper Sarah Sierra, recalling the play. "I'll just take that goal and learn from it…time myself a little bettter."
During the postgame press conference, Florida head coach Becky Burleigh was quick to give her player credit though, saying of Andujar, "Tessa was eating that girl alive on that side the whole game, so hard work pays off."
After Florida broke through, so did the sun, and as conditions dried Florida and Jacksonville amped up the pace of play. No team tallied again in the first half, and in the second half Florida thought they had a second when Pamela Begic appeared to score off a rebound, but referee Alex Sorondo whistled offsides.
Soon after, with 33 minutes ago in the match, Florida did get their second goal when midfielder Annie Speese sent a corner kick into the area. The ball deflected off of Gator midfielder Meggie Dougherty-Howard and found its way past Sierra. Burleigh was proud of the effort her team made in their first match since one of their key players, midfielder Havana Solaun, tore her ACL.
"I think it's a coordinated team effort," Burleigh said of her squad. "There's certain things that people do like Annie [Speese] taking more shots, I think that's important. We need more offensive production there. I think other people did it by working harder on defense and winning balls in the air, so it's a community effort."
Florida had a few chances after Howard's goal, namely a Pamela Begic shot that was labeled for the net but deflected off a Dolphin defender's face, but were unable to muster a third goal. However, two was enough for the Gators who will face Duke next in the NCAA Tournament.
For more postgame audio, click the links below.
Tessa Andujar on her goal
Meggie Dougherty-Howard on her goal
Becky Burleigh on adjusting without Havana Solaun