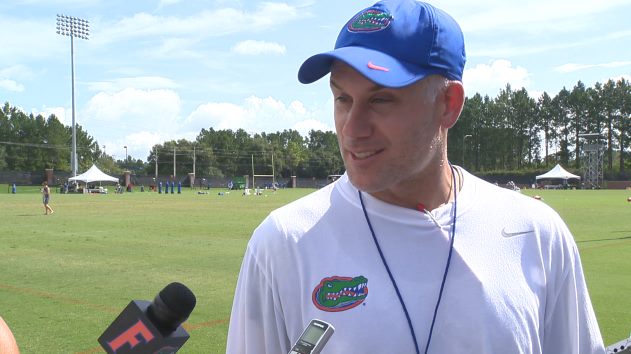 The Florida football team is in full swing preparing for the 2014 season. Gator defensive coordinator D.J. Durkin met with the media following another productive practice on Thursday to discuss the team's status and overall improvement.
Gator standout defensive end Dante Fowler Jr. wore an orange non- contact jersey during practice on Thursday after sustaining a minor arm injury during Wednesday's practice, but according to Durkin there is no reason to be alarmed because it was just precautionary.
"He's fine," Durkin said. He's ready to go. He did some of practice, and some we held him out. That was just precautionary."
Durkin also praised the St. Petersburg native on his phenomenal performance throughout fall training camp and how Fowler has really distanced himself from other players.
"I've been proud of Dante about the way he's practiced," he added. "He's been very consistent with his effort and how hard he's going, and it's showing. He's getting better and improving."
Meanwhile, tailback Kelvin Taylor returned to practice after missing three days with a very minor hamstring injury. He worked with the first team offense. Wide receiver Andre Debose is also back in action. Matt Jones is still not practicing because of some swelling in his left knee sustained during Saturday's scrimmage but is expected to return sometime this week.
All-American sophomore cornerback Vernon Hargreaves III may still be in an orange non-contact jersey, but according to Durkin VH3 is back at full speed after sustaining a bone bruise.
"He just missed a handful of days which unfortunately a lot of guys do during training camp, Durkin said. "But Vernon will be fine, he's a competitor and he prepares really well. He's hopping in as much as he can and he's back at full speed right now –  so he has plenty of time to get himself ready."
Hargreaves may be the unquestioned leader of the secondary, but more importantly – he's distinguished himself as a renowned leader of the Florida football program.
He's done a great job," Durkin said. "He has the ear of the team. Guys obviously respect him. These young guys back there, when someone is leading them the right way, that's a great thing."
Durkin also mentioned that the Gator coaching staff is eager to get freshman defensive back Duke Dawson back from the minor shoulder injury that he sustained in order to find out where he'll be the best fit in the secondary. Durkin said he's impressed with how versatile Dawson is and elaborated on how the former Dixie County standout is a great asset to the squad.
"One of the good things about him is he's very versatile," Durkin said following Thursday's practice. "He can do a lot of things. He can cover inside, he can cover outside. He can almost kick in and play safety, too. That's a valuable guy for us to have. We'll see how it kind of shakes out once he gets back."
"That's still sorting itself out," he added. "We still have a scrimmage coming up. Duke is definitely in the mix. We're counting on him to play and contribute this year."
Another topic Durkin covered was the coaching staff's decision to move sophomore defensive back Marcus Maye from safety to nickel.
"That was something we just tried out here going into camp and he's looked really good doing it," he said. "Obviously, he has great coverage ability. That nickel spot is a unique thing. That guy's got to be able to blitz, cover, man cover, zone cover, do all of those things. Marcus kind of has a feel for it."
Durkin added that the competition for starting positions is well underway and many decisions may not be made until the final rep of the final practice. The squad is encouraged to continuously bring that inner drive and energy everyday day to every practice.
"We've had great competition," Durkin said. "Competition makes everyone better. They're battling really good. They've all had days where you could say this guy is better than the other. The good news is they're all competing and playing well. They're going to help us."
The Gators will hold another open practice Saturday at 9 a.m. at Ben Hill Griffin Stadium, but first Gator head coach Will Muschamp is expected to meet with media at 11:30 a.m. today and we will continue to bring you updates on ESPN 850 WRUF radio.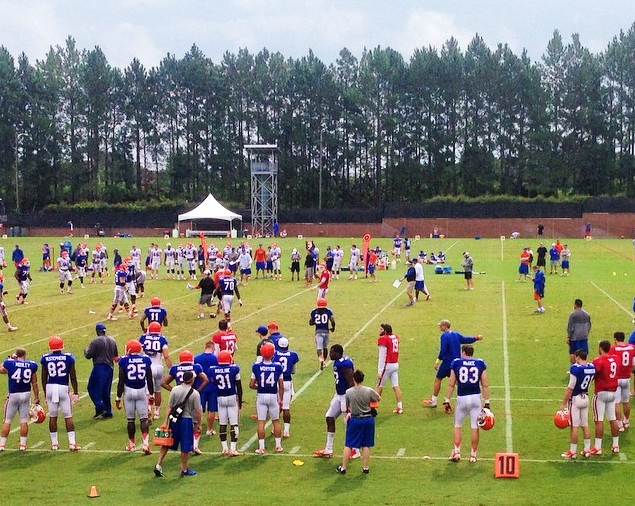 Durkin on Dante Fowler being a consistent player
Durkin on competition with positions
Durkin on Vernon Hargreaves III