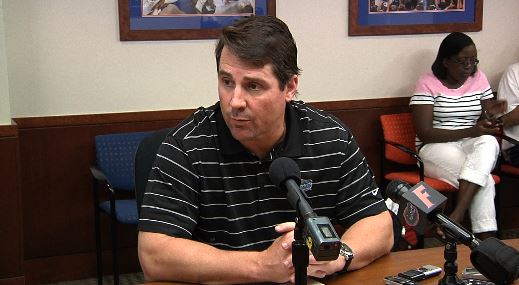 The Florida football team is wrapping up Week Two of training camp and with the season opener just 14 days away, the Gators are in full force preparing to kick off the 2014 season. Gator head coach Will Muschamp discussed the team's progress as well as some critical decisions that need to be made before the season opener against Idaho.
There is still a lot of competition and position battles going on right now and the most important decision is finding a back-up to starting quarterback Jeff Driskel. Freshmen Treon Harris and Will Grier who have been sharing reps with the second team offense are in the mix and vying for the spot. The coaching staff would ideally like either Grier or Harris to redshirt this season. Muschamp said no decision has been made, but it will be determined in the near future.
"I think all the backup guys have had some very good moments," Muschamp added. "They've been put into some adverse situations when you talk about a true freshman walking in. We had four or five one-minute situations where those guys have got to make great decisions, as far as getting rid of the ball, knowing when to scramble, knowing when to get out of bounds and knowing when to get rid of the ball.
"We haven't made any decisions on any of that yet," he added."We would like to go in and have a guy play and redshirt another guy and move forward. But we'll see how that plays out."
According to Muschamp the coaches and staff are going to evaluate the players and finalize the squad's depth chart soon in preparation for the season.
"Well, we need to watch the film today, we'll watch it with the players tonight," he said. "I told them we'll sort through the depth chart of guys we can count on moving forward and guys that need to get more reps and guys whose reps will dwindle. I mean, that's just part of it. Your tape is your resume. The guys that are producing and playing well and doing it the way we want to do it, those are the guys that'll play."
Some great news is Gator standout running back Matt Jones and offensive lineman Trip Thurman will return to practice on Saturday after missing a few days this week due to injuries. Defensive end Dante Fowler Jr. also played in Friday's scrimmage at full force after sitting out of most of Thursday's practice wearing an orange non-contact jersey due to a very minor shoulder injury. Fowler confirmed there's no reason to be alarmed.
"It was nothing big," he said. "Hitting D.J. Humphries Trent Brown, Chaz Green all those guys, for 14 days straight, y'all would be hurting, too."
Meanwhile, freshman offensive tackle David Sharpe sustained a high ankle sprain during Friday's scrimmage and is day-to day, but expected to return to practice soon.
"It happened this morning," Muschamp said following Florida's 15th practice. "But he's fine. We'll see him Saturday morning. Those high ankles can be two days, they can be a week. We need to get him back. He's a really good football player, he's very athletic, 6-6, 330 pounds, moves his feet extremely well. A guy that's going to help us this year."
Overall, Muschamp seems pleased with the team's progress in developing and implementing the new up-tempo shot gun spread offense under offensive coordinator Kurt Roper. According to Muschamp, the offense looked extremely impressive and produced quite a few explosive plays during Friday's scrimmage in the swamp.
"We're more talented on offense than we were a year ago at this time. That's the number one thing," Muschamp added. "Regardless of what we're doing schematically, which I really like what we're doing, we're better. We're better at receiver, we're better at running back, Jeff is a year better, we're better on the offensive line, we're better at tight end. We're better at every position."
"That's what gets you excited as much as anything," he added. We've got great competition. Those guys know they have to come out every day and compete. There's nobody that's got a job, you've got to go compete."
Florida's last open practice of fall camp will be held this Saturday morning at Ben Hill Griffin Stadium at 11 a.m. where the squad will practice in helmets only – prior to Florida's annual Fan Day which will be at the Stephen C. O' Connell Center from 3-6 p.m.
Muschamp on redshirting Grier or Harris
Muschamp on sorting through depth chart
Muschamp on back-up QB position
Muschamp on Gators 15th practice
Muschamp on Florida's new and improved offense
Fowler on his minor shoulder injury