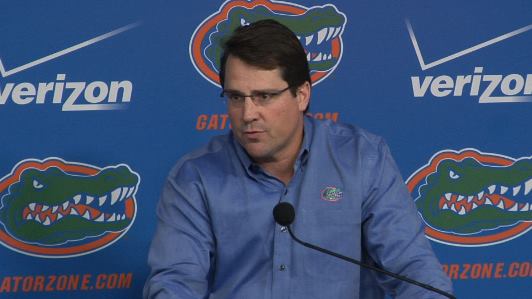 The Florida football team is gearing up to host SEC opponent LSU this weekend. The Gators are coming off their 10th straight victory over SEC East rival Tennessee and are focused on preparing to earn a win over the Tigers this weekend. According to Florida head coach Will Muschamp, the Gators will do so without University of Florida quarterback Treon Harris in the lineup.
Harris remains suspended indefinitely from the football team after being accused of sexual assault. Authorities are in the midst of investigating the allegation and Muschamp says there have been no updates regarding the matter.
"The statement that the University released Monday I think was pretty explanatory. It's a very serious charge and there has been no change in his status. That's where we are and I don't have any other comments on the situation."
He added that there was a possibility Harris may have been named the starter for Saturday's game, but now redshirt junior Jeff Driskel will unquestionably be back under center for Florida. Meanwhile, true freshman Will Grier will compete with third-year sophomore Skyler Mornhinweg for the backup role.
"Jeff is going to start the game. We had not made a decision on who was going to start the game. Jeff was going to play in the game. Right now Skylar and Will are swapping reps with the second group and we will make that decision game time."
Another lingering question to be determined is whether or not the coaching staff will redshirt Grier.
"We hadn't really made a decision considering the length we still had to go in the season. So you know, we hadn't had that discussion as far as redshirt at that time. Given the situation of having two guys that had played to that point in the season, that's probably where we were headed. Certainly given the situation right now, obviously not."
Like Florida, the Tigers are also in a quarterback controversy. LSU head coach Les Miles has yet to decide whether sophomore Anthony Jennings or true freshman Brandon Harris will start on Saturday after an embarrassing 41 to 7 loss to Auburn. Last week, Harris struggled, completing 3 of 14 passes for 58 yards while Jennings had issues the week prior against New Mexico State.
Meanwhile, injury wise, Florida's trio of freshmen – running back Brandon Powell (hamstring), wideout C.J. Worton (broken hand) and Grier (back spasms) are expected to return to the field this week. Senior linebacker Michael Taylor will also be back in action. Defensive tackle Leon Orr is still questionable for Saturday's game and slot receiver Valdez Showers will miss this week due to a high ankle sprain.
"As far as injury right now, Leon is questionable for the game. He has worked out with us the last two days but we'll see how he continues to progress throughout the week. Mike Taylor, his knee is fine. He's got the flu. He's missed the last 48 hours with us but he'll be at practice today and will practice and play in the game. He's ready to go."
"Brandon Powell looks great. He's moved extremely well. Will Grier is good. He'll be ready to go. Matt Jones has a little swelling on the knee but should be fine, game time. Valdez Showers is out with a high ankle but we will get him back next week. I feel very confident in that. And C.J. Worton is back and he will play in the game Saturday. So it's good to get him back."
Despite all the distractions earlier in the week, the team is focused on progressing and moving forward.  Muschamp says the squad is looking to rally around adversity and renew the team's confidence.
Which begins with his starting quarterback.
"Jeff's a tough man. He's resilient. There are some situations he needs to play better. He takes full responsibility. The way he has handled the situation has really been outstanding. I think we've taken out a lot of the positive things he's done within his career here at the University of Florida which there's definitely a lot. He's played in some big games,  one of those game was just two years ago."
"That game was against LSU – and we won."
Kickoff for Saturday's SEC showdown is slated for 7:30 PM and you can catch all the action on ESPN 850 WRUF beginning at 3:30.
For audio on the above quotes, click below: 
Muschamp on Driskel and Harris
Muschamp on backup QB position