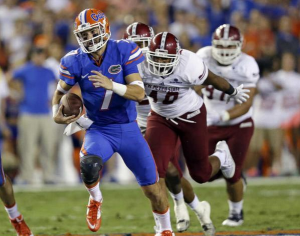 The Florida Gator football team opened SEC play with a 14-9 victory in their first road game of the season against the Kentucky Wildcats on Saturday night. With the win the Gators move to 3-0 on the season, 1-0 in SEC play, and they move their winning streak against the Wildcats to 29 games in a row.
Red shirt freshman quarterback Will Grier received his second career start, first on the road. Florida head coach Jim McElwain mentioned during the week that they would stick with a hot hand at the quarterback position, and Grier went the distance. He finished the game 13 of 22 for 125 yards and one interception. Surprisingly, Grier led the team in rushing as well as he carried the ball 12 times for 61 yards and a first quarter touchdown. Tight end Jake McGee led the team in receiving with three receptions for 30 yards and he liked what he saw from his quarterback.
"I thought Will did great, I'll have to see the tape, but he led the offense, he showed poise, I mean he was under a lot of pressure," McGee noted."I was happy with how he played, you know, he showed a lot of leadership tonight."
With the offense totaling 245 yards, it was the defense that secured this victory for the Gators allowing only 241 total yards to the Wildcats offense. Patrick Towles, aka Patty Ice, was ice cold throughout the game. Towles completed a mere 33% of his passes on 8 of 24 passing for 126 yards and two interceptions, including Quincy Wilson's game winning pick with under a minute left.
While the secondary was stout, the defensive line had its best game of the season in Lexington. The unit as a whole totaled five sacks (safety Keanu Neal had one of his own) with both Jon Bullard and Alex McCalister recording two sacks each. McElwain was pleased with the performance from those guys in the trenches.
"The front guys did a great job of pressuring the quarterback, coming up with some big plays," McElwain said. "We have to work on our gap control, we gave up some explosive runs and we've got to get a little better at that, but overall they played great and they expect to play great and that's what makes them real special."
Running back Kelvin Taylor found himself squarely in the news this week after the Jim McElwain tirade toward him on a personal foul call on the sidelines last week went viral. The junior back was demoted to third string on the depth chart behind a couple of freshman running backs, but he ended the game with a team leading 16 carries. Taylor knows there's a lot of room for improvement on this Gators team, but he expects them to be up to the challenge.
"This team, no matter what, we don't let nothing get us down and we keep going out there and we keep fighting hard," Taylor stated. "We just have to play until the clock says 0:00 and after that we just got to live with the results and we're just going to keep grinding away and every week we have to get better and better."
Now the Gators move on to another team that hasn't had a lot of success against them lately, the Tennessee Volunteers. Florida currently holds a 10 game winning streak over Tennessee and McElwain believes his team will be ready to take on the Vols.
"They understand how to prepare and they're looking forward to another SEC game and they know there's obviously no gimmes," said McElwain on his team. "A team that's going to expect to come in and beat us and this is fun. I think it will be a great crowd back home, and these kids look forward to that support in the Swamp. We'll get home tonight and get this put to bed and start putting the plan together for Tennessee."
Tennessee is coming off of a dominating 55-10 victory over Western Carolina. The Gators and Volunteers will kick off next Saturday afternoon at 3:30 in the Swamp.
Taylor on Team Continuing to Improve