The Florida volleyball team faced off against Florida State for round two of NCAA tournament play on Friday night. The match proved to be a tough one as each team battled back and forth for the lead.
FSU took set one 25-23, but the Gators answered grabbing set two 25-19. After being down late in the third set, Florida was able to rally back for the 25-23 win. With that fire, the Gators showed no mercy to close out the match with a 25-19 win in set four.
Head coach Mary Wise says the home crowd really helped the team fight in the third set to give the Gators a 2-1 set advantage.
This matchup was truly a team effort for the Gators. Outside hitters Carli Snyder and Ziva Recek led the team with 16 kills a piece. Recek also put up 17 digs and 4 blocks. Recek says the team's passing really improved after the first set to help them towards a win.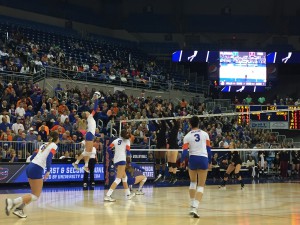 Middle back Rhamat Alhassan tallied in 12 kills, 7 blocks, and led the Gators with a .333 hitting percentage. Libero Nikki O'Rourke showed her hustle as well to lead the team with 18 digs.
Setter Mackenzie Dagostino put up 12 kills on the board and thinks this game showed some of best Gator volleyball all season.
Florida now advances to the Sweet 16 for the Austin Regional to take on the 6th seed Wisconsin. That matchup is set for December 11th.