GAINESVILLE, Fla— Gainesville Police Department's Officer Bobby White… the "Basketball Cop," continues to draw up game-plans for local teenagers and his aim continues to be right on target.
On February 24th Officer White reinforced his efforts to promote and bring awareness to, "Hoops Not Crime." Kids growing up in Gainesville and all around the world have all participated in a little street basketball action, but the counterpart to that is non-participating neighbors and potential speeding vehicles passing through this basketball game.
The Basketball Cop used his skills and abilities to take the first step in his vision to accommodate the neighbors and kids, at the same time. With the help of Gainesville restaurant owners of One Love Cafe, Cliff and Julie Denney, these teenagers are moving from the street, to the backyard.
It was a mild February afternoon, but the mood was set just right. With Gainesville bugs buzzing, the sun beaming down, and different media outlets surrounding the perimeter of the backyard, this was the place to be. Everyone's eyes were locked and loaded while anticipating seeing these teenagers encounter with their new basketball court.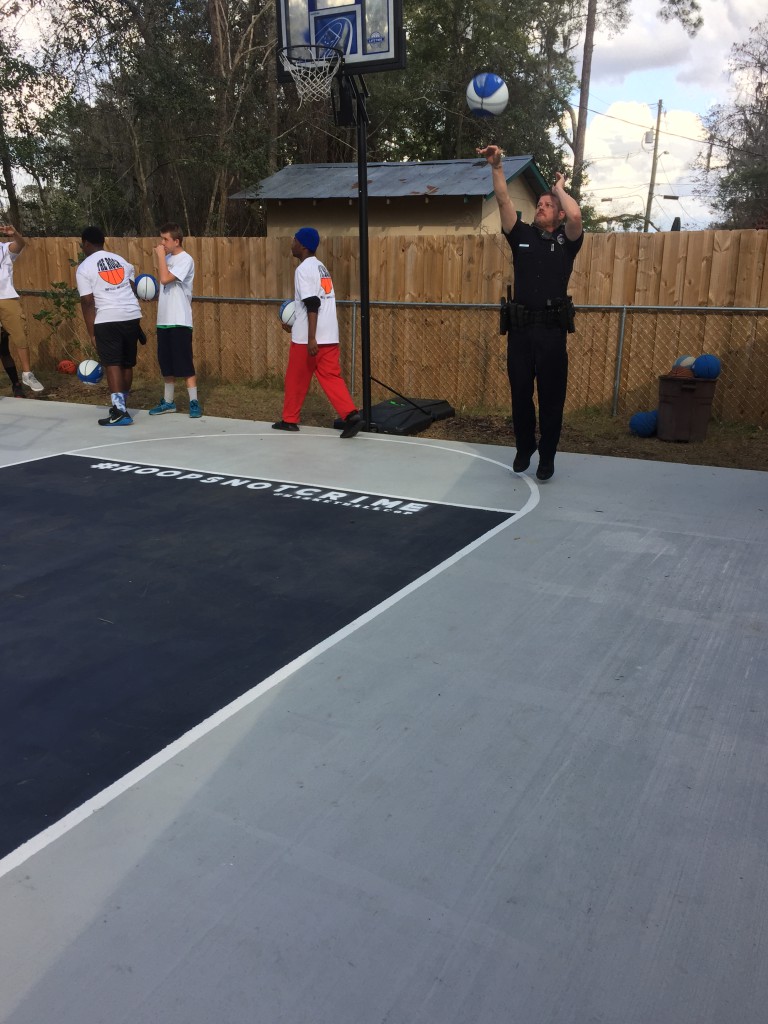 The court is a 25 x 30 foot concrete slab and it even features a free-throw line. Just inside that free-throw line is Officer Bobby White's motto and the organization he began with these teenagers, "Hoops Not Crime." Also on the court is a commercial, permanently mounted backboard and basketball goal. The hoop was donated by LifeTime Products.
School let out and that only means one thing…boys will be boys and these boys only had one thing in mind, basketball. Nine teenage boys ran to the backyard like they were running out of the tunnel for your favorite NBA team. This starting lineup for the "Hoops Not Crime" Crew understands game-plan is set to make a difference and it all started with them.
After the boys got a couple shots up and few friendly rounds of one-on-one, Officer Bobby White called in for backup, which turned out to be a trick-play. Anthony "Buckets" Blakes, a basketball player for the Harlem Globetrotters walked in and everyone stood-short in awe.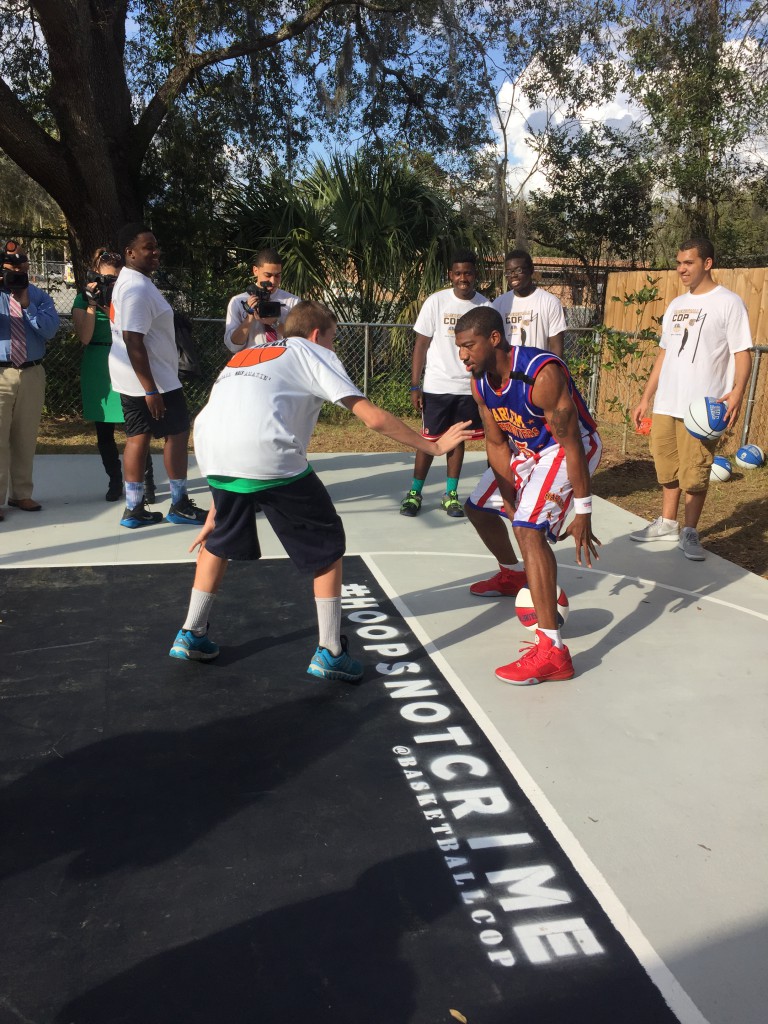 "Buckets" greeted everyone, but he was there strictly for the "Hoops Not Crime" Crew. Public schools may have ended for the day, but everyone was schooled by Buckets' Harlem Globetrotter-type tricks and his wisdom. He gathered the boys around for a brief moment to give a pep-talk, which resulted motivational words for everyone in attendance. Buckets traveled to Gainesville ahead of the rest of the Harlem Globetrotters, who were in the O'Dome on Thursday, to come hang out with the "Hoops Not Crime" Crew. He says this story reminded him of his childhood neighborhood. 
Officer Bobby White, the "Basketball Cop" is taking his game-plan into overtime. He says his message and generous actions will not stop with this one backyard basketball court. Transitioning his "nothing but net," skills into nothing but networking skills, he has visions of giving the Gainesville community so much more, maybe he could trot around the Globe and make a difference.
There will be no backcourt"backyard" violations called against Officer Bobby White.