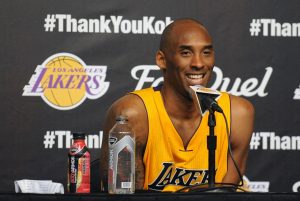 Kobe Bryant is considered one the greatest NBA players of all time. In terms of all-time NBA shooting guards, Bryant and Michael Jordan are often ranked at No. 1 and 2. Bryant managed to rack up five NBA Championships, one MVP, and 18 All-Star game appearances in 20 seasons playing for the Los Angeles Lakers. As of yesterday, Kobe received yet another accolade to add to his ever increasing resume. This accolade is in the form of a holiday. City officials of Los Angeles declared the 24th of August, Kobe Bryant Day.
The holiday was announced in the Los Angeles City chambers by the major and city officials. Kobe Bryant, his pregnant wife and their two daughter were in attendance surrounded by hundreds of fans. The holiday was announced to honor Kobe Bryant for what he's done for the city of Los Angeles and all his career achievements.
It was MY honor to play here for 20 years. Much respect, LA. #kobebryantday pic.twitter.com/4vScFtjLBg

— Kobe Bryant (@kobebryant) August 24, 2016
The date of the 24th was chosen due to Bryant wearing the number on his jersey for 10 NBA seasons starting in 2006. Some would even ask why the 8th of August wasn't announced as Kobe Bryant Day.  Kobe wore the number eight for 10 NBA seasons as well. This also leads to another hot debate as to what number dose Kobe Bryant retire with? Kobe won three championships wearing the number eight. During this time he was playing with Hall of Fame center Shaquille O'Neal. While wearing the number 24, Bryant won two championships and an MVP award playing alongside power forward Paul Gasol and the versatile forward Lamar Odom. Some say its easier to retire both numbers. Which ever direction is chosen, it can rest assured that both paths are great pieces of Kobe Bryant's history.