Monday Night Football returns to The Windy City tonight, as The Philadelphia Eagles(1-0) and QB Carson Wentz will take on Jay Cutler and The Chicago Bears(0-1) from Soldier Field.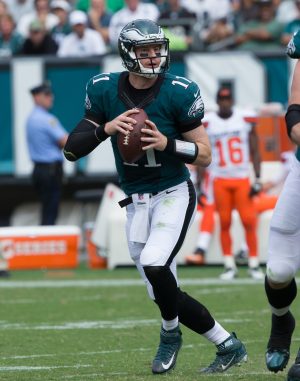 Wentz, the No. 2 overall draft selection, was impressive last week, earning a win in his rookie debut vs. Cleveland. He completed 22-of-37 passes for 278 yards while throwing for two touchdowns in the victory. Wentz has handled the noise and distractions that come with lofty expectations particularly well so far. It will be interesting to see how he responds surrounding the hype tonight in the first prime-time game of his young career.
Wentz was aided by WR Jordan Matthews, who hauled in seven receptions for 114 yards and a TD in the contest. RB Ryan Mathews was also effective, averaging 3.5 yards per carry.
Meanwhile, Chicago will look to rebound after an unimpressive Week 1 performance vs The Texans.  In order to do so, The Bears defense will need to tighten up the 129 yards on the ground surrendered  to Houston in Week 1, for a 3.7 YPC average.
On Chicago's offensive side of the ball, The O-line has some major work to do, as QB Jay Cutler was constantly under pressure last week, leading to five sacks and two forced fumbles in the game.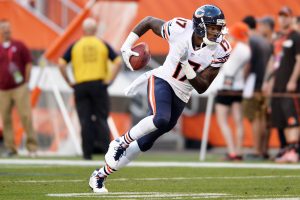 Cutler was actually fairly impressive when he had the chance to throw the ball, especially in the direction of WR standout Alshon Jeffery who caught 4-of-6 targets for 105 yards in the game.  Jeffrey's size, speed, and excellent hands make him a constant threat that has proven the ability to change a game.
Key Injuries:
Philadelphia: Eagles coach Doug Pederson has officially ruled Zach Ertz out of tonights game, who suffered a displacement of the first rib on his left side Week 1. Ertz was very involved in The Philadelphia passing attack early last week catchingsix passes for 58 yards in contest.  Back-up TE Trey Burton is expected to see increased action, in Ertz' absence. –rotoworld
CB Leodis McKelvin will also miss tonights action after exitingWeek 1 with a hamstring injury.
Chicago: RG Kyle Long who has been suffering from a sore shoulder, has confirmed he will play tonight.
From Vegas:  
Line: Chicago -3
O/U:  42.5
Expected Weather: 76° Mostly Cloudy