The Tampa Bay Buccaneers (8-5) are headed in the right direction as they prepare for their trip to Arlington, Texas to face the Dallas Cowboys (11-2) in Week 15. of the NFL season.
Bucs Back at It
The Bucs got off to a poor 3-5 start to the season; since then, they have won five games in a row and they now sit in second place in the NFC South behind the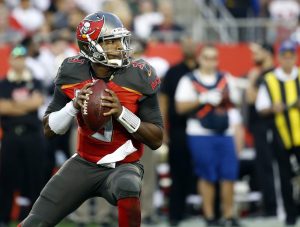 Atlanta Falcons.  Former FSU quarterback Jameis Winston is in his second year with the Bucs.  His steady improvement is paying off– he has 23 touchdowns on the season.
The defense ranks among the best in the NFL.  Vernon Hargreaves III, a former Gator All-American and current NFL rookie, is part of that stellar unit.  At cornerback, the Tampa native got his first career interception last week against New Orleans.
At receiver, Mike Evans sits third in the league with 80 catches on the season.  The former Texas A&M standout also boasts an impressive 1,100 yards (5th in league) and 10 touchdowns (10th in league) on the season.  The Cowboys will look to stop Evans if they want to break Tampa's win streak.
Bucs coach Dirk Koetter knows his team will have to play hard to hold off the Dallas defense. 
https://twitter.com/dallascowboys/status/809111940735893504
Giddy Up, Cowboys
The Cowboys are looking to regroup after their Week 14 loss to the New York Giants (9-4).  The Dallas defense came off of its best game of the season despite the offense scoring only seven points against their NFC East rival.  Rookie quarterback Dak Prescott had his worst game of the season, completing less than 50% of his passes while throwing two interceptions.  At the start of the season, Prescott averaged more than 200 yards a game passing; the last three weeks are a very different story.  He has thrown for an average of just 166 a game over his last three games.  Prescott needs to play like he did at the beginning of the season is he wants his team to make a legitimate run in the playoffs.
Despite last week's loss and Prescott's poor play as of late, the Cowboys look good this season overall.  Their strong defense gives them an advantage and gets them out of trouble when the offense can't seem to pull it together.
Final Thoughts
This game will one of the biggest games for Tampa in a while.  The Bucs are playing well, fighting for a playoff spot while also trying to win their division.  Dallas is looking to not only win its division but perhaps get the best record in the NFC and home field advantage throughout the NFC playoffs.  We'll see if the Bucs can continue their winning ways and if the Cowboys can get their offense back on track to help them get a win on Sunday.
Coverage
TV coverage will begin at 8 p.m. on NBC.