With the Gators playing their best basketball of the season, an injury was the exact opposite of what they needed to fuel their momentum. John Egbunu has been declared out for the season after suffering a torn ACL during Tuesday night's victory over the Auburn Tigers. Egbunu's expected recovery time is 10-12 months, which would more than likely sideline him until conference play next season.
"We're all disappointed for John," head coach Mike White said. "He's been playing really well of late, so it's a tough blow to him and our team. He's a great young man, and unfortunately injuries are a part of basketball. He'll be back even stronger."
Gorjok Gak out 10-14 days too, so it'll be all Hayes and Rimmer as the Gators' true 5s for at least Mississippi State and South Carolina.

— Jake Winderman (@jakewinderman) February 15, 2017
John Egbunu was averaging 7.8 points and team-leading 6.6 rebounds per game before his injury. He shot 49.2% from the floor this season and a career-high 56.7% from the free throw line. Egbunu had arguably his best game of the season two contests ago, when he went for 11 points, 10 rebounds and 0 turnovers vs. Texas A&M. He had 10 points and four rebounds in eight minutes played against Auburn before taking a sharp fall, which would tear his left ACL.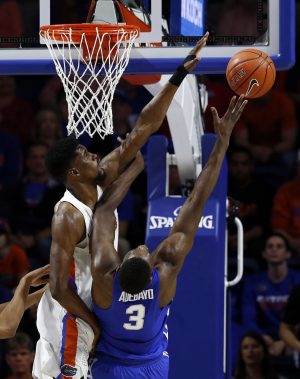 How Will Egbunu Be Replaced?
The replacement of Egbunu won't fall on just one person, but the entire team. First up are Kevarrius Hayes and Schuyler Rimmer, the Gators' only healthy true centers. Gorjok Gok is out for 10-14 days with a left foot sprain, so Hayes and Rimmer will be the only active centers versus both Mississippi State on Saturday and South Carolina on Tuesday.
Can Spidey Save the Day?
Hayes is averaging a career-high 6.2 points and 3.8 rebounds per game this season on an average of 15.4 minutes played. Like we saw when Egbunu was injured earlier this year with a hamstring injury, Hayes will more than likely be the starting center moving forward. His best game of the season came on January 28 in the SEC-Big 12 challenge vs. Oklahoma, when he dropped 20 points and 9 rebounds on 7-11 shooting. Mike White has consistently prided Hayes on being one of the hardest workers on the team, along with Justin Leon. "Spidey" hasn't played more than 25 minutes in a game this year, but will certainly have to with Egbunu out for the remainder of the season. Hayes is also averaging a team-leading 1.6 blocks per game and has 10 blocks in his past four contests.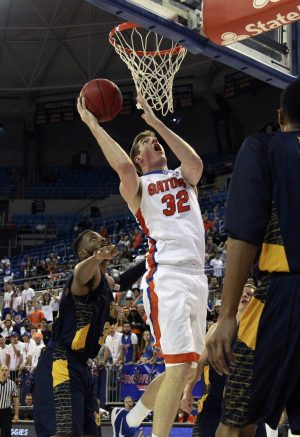 Rimmer Time?
Schuyler Rimmer is the next man up after Kevarrius Hayes. Rimmer transferred to Florida from Stanford and has been with the Gators since last season. He's averaging a measly 1.5 points and .9 rebounds per game on an average of 5.5 minutes played. Rimmer has only played in 15 games this season, never playing more than 16 minutes. His season-high in points is four, which came against Kentucky, while his season-high in rebounds is also four, which came against Charlotte in the Orange Bowl Classic. He's never scored in double-digits with the Gators, and still won't be expected to, even with Egbunu out for the year. Rimmer has had a lot of trouble finishing at the rim with any contact and has looked quite lost on the floor at times this season. His upside comes on strong screen setting and his ability to knock down free throws. He's knocked down 72.7% of his shots from the foul line this season, but is a career 61.3% free throw shooter. Rimmer's game will need to go from 0-100 real quick if Florida wants to have any depth at the center position.
Small Ball
When Egbunu and Hayes have gotten into foul trouble this season, Florida has at times gone to a small ball lineup with Keith Stone at the center position. Stone has been average this year, despite receiving a lot of hype during the off-season. He's averaging 3.8 points and 2.2 rebounds per game, but is coming off of a 0 points, 0 rebound and 0 assists game with 5 fouls against Auburn. Stone has been solid this season despite his averages, but plays good in spurts. He's scored in double-digits four times this season with a career-high 17 points vs. Georgia on January 14. Stone hasn't scored in his last six games, and missed two of the team's last five games with a serious ear infection. At 6'8″, 240-pounds, Stone has the ability to play center vs. smaller teams, but his success will be measured in the near future.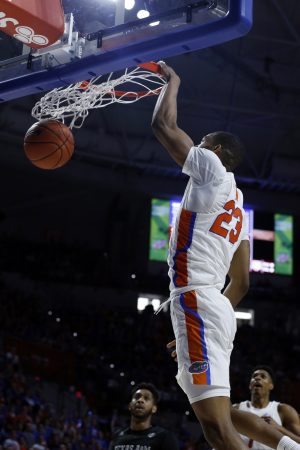 Other possible scenarios where the Gators play small ball will be with either Justin Leon or even Devin Robinson at center. Leon played center in college and is listed at 6'8″ and 206 pounds. He's averaging 7.1 points and 3.9 rebounds per game and has scored in double-digits in each of Florida's past three games. He's been successful as of late as a three-point shooter, but may see some minutes at the five.
Robinson is also 6'8″, but slightly smaller at 200 pounds, although the difference isn't really noticeable to the naked eye. Robinson is a junior who has played consistent minutes since his freshman year. He's averaging 11.5 points and 5.6 rebounds per game. We more than likely won't see Robinson at center, but it would help to have him ready if his number gets called.
The Big Dance
While Egbunu's injury won't hurt the Gators seeding right away, losses stemming from his absence could be a factor. Florida is currently situated as a 3-seed, per Lundardi's latest Bracketology, and should stay around there as long as they avoid a few bad losses to upcoming teams like Mississippi State and Vanderbilt. Should the Gators lose those games, the committee might start to downgrade Florida's seeding due to the clear impact of John Egbunu's injury.
Near Future
Florida's next game is on Saturday in Starkville against Mississippi State. We will see the immediate impact of Egbunu's injury as the Bulldogs' leading rebounder and fourth-leading scorer stands at 6'10" in Aric Holman. Luckily for the Gators, besides Holman, none of Hail State's tallest players make a consistent impact on a nightly basis. Saturday will be a good chance for Florida to debut a coupe of different small ball lineups.