Brian Poole came to Florida as a five star recruit and the second ranked corner back in the nation, according to Scout. He played all four years at Florida and went un-drafted when he declared. He was picked up by the Atlanta Falcons and played in Super Bowl LI and proved that he should have not gone un-drafted.
Prior to that, Poole had to compete against all the talent at Florida to get where he was.
Poole At Pro Day
Atlanta Falcons and former #Gators DB Brian Poole meets with the media at Pro Day. pic.twitter.com/ajgxMgi4Nx

— Landon Watnick (@LandonWatnick) March 28, 2017
One player he rotated starting positions with was corner back Jalen Teez Tabor, who has declared for the NFL draft.
A DB who has gone through this (undrafted–> Super Bowl) @JustPooleN_It talks about Tabor's draft stock after slow 40

"Watch his tape" pic.twitter.com/bynj94A3SY

— Ben Murphy (@benmurphytv) March 28, 2017
Poole once dealt with what all the Gators are going through at their pro day and wanted to come to show support. He believes the program is heading in the right direction.
At Florida, Poole's highs were 8 tackles, 2 interceptions and one forced fumble.
Un-drafted To Super Bowl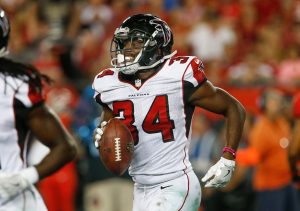 Poole ended up being a steal as an un-drafted free agent. He wasn't the sole reason the Falcons ended up in the Super Bowl, but he was a contributor.
In the regular season he had a combined 59 tackles and started nine games. When it came to the post season, Poole continued performing and started the last two games.
Source: NFL has paid out its Performance-Based Pay for 2016, led by Falcons CB Brian Poole at $371,873.11. Dak Prescott 2nd at $353,544.57.

— Field Yates (@FieldYates) March 15, 2017
Poole became one of the biggest un-drafted pick ups in last season, and has proved that he should have been selected in the NFL Draft.