The NCAA Women's Tournament is down to its final four teams. No. 1 seeds South Carolina and UConn are joined by No. 2 seeds Mississippi State and Stanford after they all won their regional championships. Now, they will battle it in Dallas, Texas to see who will become the 2017 National Champions. The conferences being represented in the Final Four are the SEC, Pac-12 and American conference.
And then there were FOUR. #WFinalFour https://t.co/mjzDTX6fjw

— NCAA Women's BKB (@ncaawbb) March 29, 2017
No. 2 Stanford vs No. 1 South Carolina
Stanford reaches its 13th Final Four appearance this year after defeating Notre Dame 76-75 in a thriller from Lexington, Kentucky. Sophomore forward Alanna Smith hit a short jumper with 23 seconds left before senior center Erica McCall came up with a block on Notre Dame guard Arike Ogunbowale at the buzzer.
On the other hand, the Gamecocks reach their second Final Four in their history, both coming within the last three years. South Carolina defeated Florida State 71-64 from Stockton, California.  South Carolina is the only university in the country to have both its women's and men's team reach the Final Four of the NCAA Tournament this year.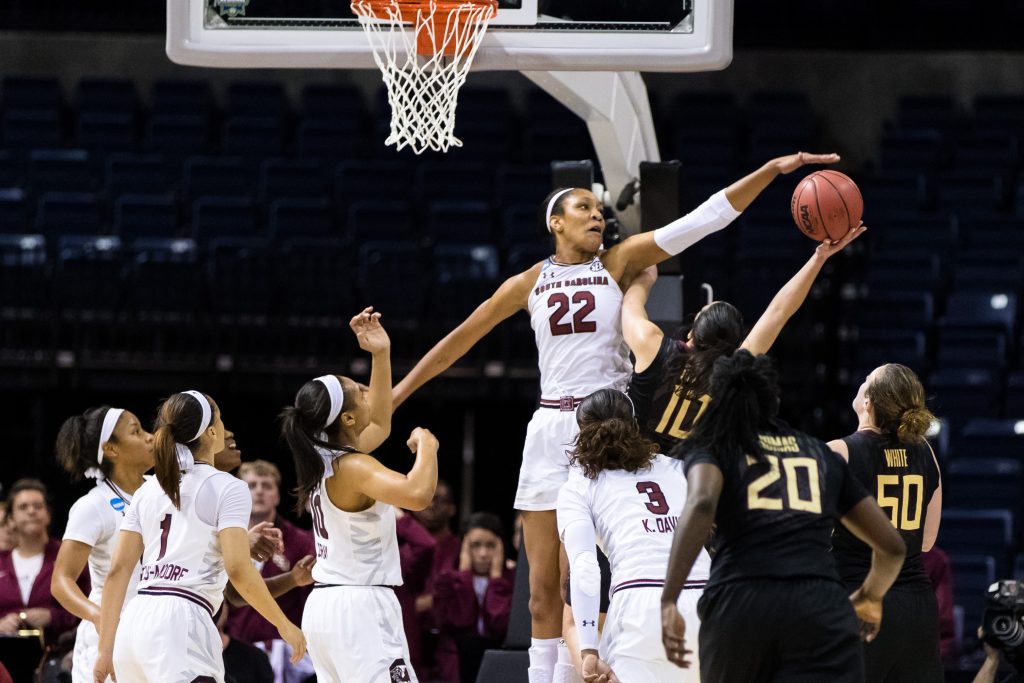 No. 2 Mississippi State vs. No. 1 UConn
Mississippi State reach the Final Four with the only overtime win in the regional championships. The Bulldogs edged Baylor 94-88 behind guard Morgan William's 41-point performance in Oklahoma City, Oklahoma. Mississippi State had the advantage in field goal percentage, three point percentage, turnovers, and more against a tough Baylor team that has lost in the Elite Eight four years straight.
UConn continue their tremendous run this season by demolishing Oregon 90-52 locally from Bridgeport, Connecticut. Their 10th straight final four appearance is highlighted by head coach Geno Auriemma passing Pat Summitt for most NCAA Tournament wins with 113 and counting. UConn, a team experienced team in being deep in the NCAA Tournament, will face a State team that has never reached this stage of the tournament.
Check out some highlights from the @ncaawbb tournament regional final win over @OregonWBB, courtesy of @UConnVideo #AndCounting pic.twitter.com/cLLPZ4XuOY

— UConn Women's Hoops (@UConnWBB) March 28, 2017
NCAA Women's National Championship
The 2017 National Championship Game will take place on April 2nd at 6:00 p.m. on ESPN. The game will take place at the American Airlines Center in Dallas, Texas just like the Final Four games. Stanford won the NCAA Championship in both 1990 and 1992, but since then has only finished runner up in 2008 and 2010. UConn is seeking its fifth straight championship and a university record 12 overall. This would be the most among both men and women in any division of college basketball. Nonetheless, Mississippi State and South Carolina are seeking their first titles ever.
Where to Watch
The Final Four games take place on Friday, March 30th, 2017 on ESPN2/WatchESPN in Dallas.
Stanford vs. South Carolina, 7:30 p.m. ET
Mississippi State vs UConn, 9:30 p.m. ET