With the idea of declaring for the NFL Draft a real possibility, Florida senior punter Johnny Townsend didn't even know if he'd be back in the Orange and Blue come the 2017 season.
"I technically could have left," Townsend said. "It was a big decision on my part and my family's part, but I'm really excited that I stayed and I can't wait to contribute to this team in the fall."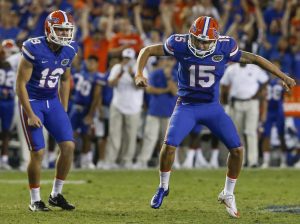 The Boys Are Back
With Townsend coming back, he'll contribute to one of the better special teams duos in the country between him and redshirt-junior kicker Eddy Piniero. Townsend was named a preseason second-team All-SEC selection, while Piniero was recently named a preseason second-team All-American selection by the Associated Press.
Both are coming off excellent 2016 seasons.
Townsend led the country by averaging 47.9 yards per punt off of 64 punts last season. In the kickoff game, Piniero also excelled, leading the FBS with a 64.8 yard average on kickoffs.
When asked, Piniero admitted they take pride in being a top kicking duo.
"Honestly, yeah we do," Piniero said. "We take big pride in it. We bring that to practice every day and we want to be the best and that's what we came here to do, to be the best."
"We've seen the stats and we've seen other schools and their kicking duo or whatever it's called and I think, and we think, we're the best."
Through the Uprights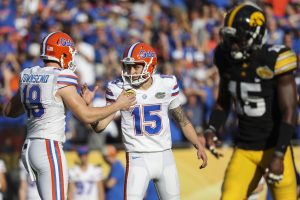 But a lot of the real magic came when the two shared the field together: on field goals.
With Townsend on the hold and Piniero with the kick, the Gators were able to forget the kicking nightmare that was the 2015 season. Piniero hit 21 of his 25 attempts, and nailed all three from 50-plus yards.
Townsend said "it's huge" to have the same unit together for this upcoming season.
"Especially with me working with Eddy, for a kicker to be great, I think he has to have confidence in the entire operation," Townsend said. "From the snap to the hold to the kick."
"If he knows the ball's going to be there every time, if I know the snap's going to be there every time, if our operation is quick and crisp and nothing's going to get blocked, that's when you can be confident and really start to have fun with it."
The Gators hope Townsend and Piniero continue to have fun with it in 2017.