Moving on to Week 11 in College Football, the second Playoff Poll will be released tonight. For the first 9 weeks of college football, rankings have been determined by the AP Top 25 Poll. That was until last week when the playoff selection committee released their first CFP Top 25 poll.
First Rankings: Top 2️⃣5️⃣ pic.twitter.com/2nefOfDhyV

— CFBPlayoff (@CFBPlayoff) October 31, 2017
The CFP Selection Committee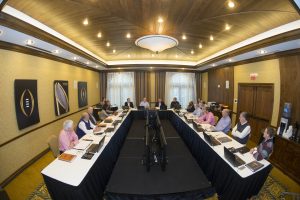 While we've been following the Associated Press' Top 25 rankings for the first half of the season, they mean nothing when it comes to the playoffs. For the past three years, college football has adopted a selection committee process to seed the 4 playoff teams.
The CFP selection committee is compromised of 13 members, including an athletic director, former coaches, administrators and a retired media member. The purpose of the selection committee was to move away from the use of other polls and computer rankings when determining the playoff contenders.
The selection committee's top 25 playoff poll determines their rankings differently. The selection committee puts a greater emphasis on the quality and value of a win, particularly versus a ranked opponent. They also look and compare the teams' schedules. In the CFP poll, wins and losses don't hold as much importance as they do in the AP poll.
For example, this is likely why Georgia leap-frogged Alabama for the No. 1 spot. Teams like Notre Dame and Clemson (who have 1 loss each) are ranked higher than Wisconsin and Miami (undefeated) for the same reason.
Potential Movers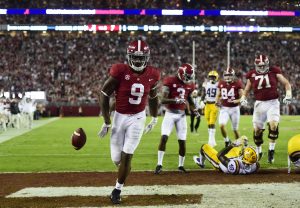 There is a general consensus that the top 4 teams from last weeks' CFP poll will remain the same. *No. 1 Georgia and no. 2 Alabama respectively handled SEC opponents South Carolina and LSU with some ease, both winning 24-10. No. 3 Notre Dame beat Wake Forest 48-37 and no. 4 Clemson beat NC State 38-31. (Rankings are all based on the first CFP poll released last Tuesday.)
*After the top 4 is where things begin to get interesting. During week 10 there were some big matchups and shocking defeats for CFP top 25 teams.
No. 6 Ohio State lost to unranked Iowa.
No. 7 Penn State lost to no. 24 Michigan State.
No. 5 Oklahoma beat in-state rivals No. 11 Oklahoma State.
No. 10 Miami beat No. 13 Virginia Tech
No. 15 Iowa State lost to unranked West Virginia.
Going into week 11, these are the AP Top 10:
Latest AP Top 10:
1. Alabama
2. Georgia
3. Notre Dame
4. Clemson
5. Oklahoma
6. Wisconsin
7. Miami
8. TCU
9. Washington
10. Auburn

— SportsCenter (@SportsCenter) November 5, 2017
While the second CFP poll won't look exactly the same as the AP poll, we will most likely see some similarities. We can expect both Ohio State and Penn State to drop out of the top 10 CFP rankings following their defeats. That'll leave Oklahoma at no. 5 and right outside of the playoff spots. The rest of the top 10 will likely include the teams that won this weekend: TCU, Miami, Wisconsin, Washington, and Auburn.
What's Next? Week 11 Matchups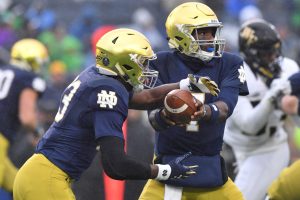 While the second selection committee playoff poll comes out tonight, there's still 5 more weeks of regular season college football. Nothing is set in stone, especially considering what's to come this weekend. *Week 11 has plenty of top 25 (according to the first CFP poll) matchups in store:
No. 1 Georgia at No. 14 Auburn
No. 2 Alabama at No. 18 Mississippi State
No. 3 Notre Dame at No. 10 Miami
No. 8 TCU at No. 5 Oklahoma
No. 12 Washington at No. 21 Stanford
No. 24 Michigan State at No. 6 Ohio State
No. 11 Oklahoma State at No. 15 Iowa State
The better of the first half of the season has passed, however, there is still plenty of time for the playoff picture to change and for the top 25 to be shaken up.
When and Where
You can watch the second College Football Playoff rankings show tonight at 7 p.m. on ESPN.
*All rankings are based on the first College Football Playoff poll released last Tuesday 10/31 at 7 p.m.