After a wild final two minutes in regulation, the Jacksonville Jaguars scored a field goal to send the game to overtime against the Los Angeles Chargers on Sunday at EverBank Field. The Jaguars won the game with a field goal, after an interception by Chargers quarterback Philip Rivers.
The Jaguars started off with a 56-yard touchdown by Corey Grant after a fake punt at the end of the first quarter. Los Angeles scored a touchdown in the second quarter when Philip Rivers completed a 28-yard pass to Austin Ekeler. Unlike the Jaguars the Chargers scored the extra point to lead with 7-6 at halftime.
Austin Ekeler scored another touchdown to give the Chargers a 14-6 lead. At the end of the third quarter Blake Bortles found Marqise Lee in the end zone after a 11-play Jaguars run for 84 yards. Jacksonville tied the game with a two-point conversion.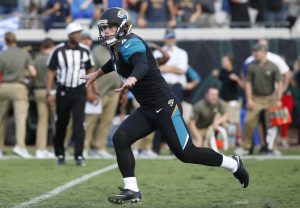 The game went wild at the end of the fourth: A fumble, two interceptions, a taunting penalty and a flag for roughing the passer caused back-and-forth momentum swings. With the Chargers being up 17-14 Jacksonville kicker Josh Lambo scored a late field goal to send the game to overtime.
Rivers' interception helps Jags to win
The Jags started off the extra period but had to punt early. Jacksonville's cornerback A.J. Bouye intercepted a pass from Philip Rivers and returned it to the 2-yard line. A taunting call on Aaron Colvin and the 15-yard penalty could not stop the Jags from scoring the game winning field goal a few plays later.
Jacksonville's quarterback Blake Bortles completed 28 of his 51 passes for 273 yards, with one touchdown and two interceptions. After the game, Bortles gave credit to his team for coming back after his two interceptions in the fourth quarter:
Philip Rivers was 21 0f 37 for 235 yards including two touchdown passes to Austin Ekeler and one costly interception in overtime.
Beating the Chargers, the Jacksonville Jaguars celebrated their first three-game winning streak since 2013. They are now 6-3 and keep pace with Tennessee in the AFC South.
Up Next
The Jags face winless Cleveland Browns on the road next Sunday.
The Los Angeles Chargers host the Buffalo Bills on Sunday.