The Jacksonville Jaguars (7-4) and the Indianapolis Colts (3-8) rematch Sunday December 3rd.
Last Match-Up
The two teams last met in Week 7 when the Jags blew out the Colts 27-0. According to Fox Sports, the Jaguars tied a franchise record with ten sacks and produced 518 yards offensively. That was without receiver Dede Westbrook, running back Leonard Fournette and center Brandon Linder,  who have all returned from injury. And this time around, the Jaguars will be the ones hosting.
Jaguars' quarterback Blake Bortles says he isn't expecting another blowout.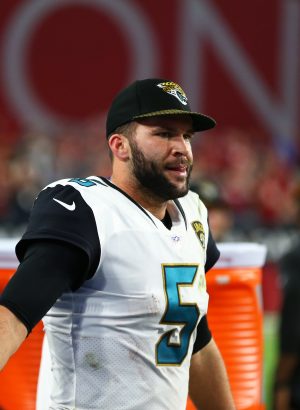 Moving Forward
Colts' head coach Chuck Pagano believes his team has improved since the meeting. Fox Sports writes:
"We're a totally different team," Pagano said. "I told them (Wednesday) morning that we didn't play well, didn't do much of anything really good in that first ballgame against these guys. Credit Jacksonville, they played well and got the win. Didn't make it much of a game, we understand that, but we're a totally different team. … We've gotten better."
Indianapolis has been without quarterback Andrew Luck, who has been out all season due to a shoulder injury. Without him the Colts have lost the last two games, and are sitting in last place in the American Football Conference South. The Colts are coming off of two home-game losses, and will now travel to Jacksonville.
 Last Week
The Jaguars are also recovering from a loss last week. On Sunday the Jags lost 27-24 loss at Arizona. Bortles says it all comes down to execution: something the Jags failed to show last week.
It was a disappointing loss for Jacksonville. The Cardinals kicked a 57-yard field goal with one second left. This loss ended the 4-game win streak for the Jags that had started with the win against the Colts. But, "the Jaguars have yet to lose consecutive games this season under first-year coach Doug Marrone," Fox Sports reported.
No surprise here.@Phil_Dawson_4 is a nominee for the Clutch Performer of the Week.

Vote for him here: https://t.co/h4fdqrKFtX pic.twitter.com/8pVMCcM6Nf

— Arizona Cardinals (@AZCardinals) November 29, 2017
Sunday's Game
The game will take place Sunday, December 3rd at 1 p.m. at EverBank Field in Jacksonville. The Jags are currently ranked as the second-place team in the AFC South, but the Colts will still try to spoil their chances at advancing to playoffs.