The Tim Tebow Foundation held its 8th Annual Celebrity Golf Classic over the weekend. The 2-day event was held at the TPC Sawgrass Country Club in Ponte Vedra Beach, FL. Friday night kicked things off with a Celebrity Gala, before the Golf Classic on Saturday. The Celebrity Weekend is the foundation's largest fundraiser of the year. The event has raised about $10 million over the years. 100 percent of the proceeds go to helping children around the world.
The Celebrity Gala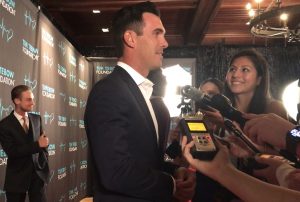 Tebow hit DH in a Mets Spring Training game earlier in the day. He then quickly got on a plane for Jacksonville to make his Celebrity Gala.
Tebow's celebrity friends dressed to the nines to walk the red carpet. Among the guests in attendance were- Marcus Allen, Chip & Joanna Gaines, Kevin Sorbel, Kaylee Hartung, Billy Horschel, Urban Meyer, Dan Mullen, Laura Rutledge and Danny Wuerffel. Many of the red carpet guests have been attending the event for years. Both Billy Horschel and Urban Meyer stated how much of a priority it is to come to the event to support Tim and his foundation. Horschel also mentioned how well Tebow can motivate people to help others.
Tebow says that his foundation strives to serve those who can't fight for themselves and help them physically, emotionally and spiritually.
The Golf Classic
From the mulligans (do-overs), playthroughs and skipped holes due to autographs and photo ops, it was definitely a day of fun, friendship and giving back.
Tim Tebow's first tee shot!🏌🏼‍♂️ #TimTebowFoundation #TTFGolfClassic18 @ESPNGainesville pic.twitter.com/VQVe1Oi5MH

— Sarah Carlie Morton (@SarahCarlieUF) March 3, 2018
At the Golf Classic, 22 of Tebow's celebrity friends and others joined Tim in a round of golf. It was split up where each Celebrity was grouped with about 4 or 5 others to play eighteen holes.
Not all of his Celebrity friends played golf but helped out in other ways. Laura Rutledge hosted the 17th hole lip sync battle. Each hole had a fun event for the spectators to watch like- football throw, cornhole challenge and Wii homerun derby just to name a few.
https://twitter.com/sarahcarlieuf/status/970293961892999168
About The Foundation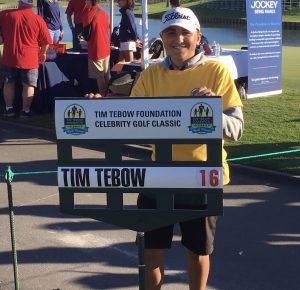 The Tebow Foundation's mission statement is to bring Faith, Hope and Love to those needing a brighter day in their darkest hour of need.
The outreach initiatives that the proceeds go towards is- Night to Shine, W15H, Tebow Cure Hospital, Timmy's Playroom, Brighter Days, Orphan Care and Adoption Aid. To learn more about how to get involved you can visit www.timtebowfoundation.org.