The Brentwood, Tennessee native makes his return to the Volunteer State Saturday night.
Van Jefferson will be playing in his first game in Neyland Stadium when the Florida Gators take on the Tennessee Volunteers at 7 p.m. Saturday.
High School Reunion
Florida's top wideout will be seeing familiar faces in Knoxville.
"I went to high school in Tennessee so all of my close friends go to Tennessee," he said in a post-practice availability.
Jefferson said his friends have been talking a little trash already during the week. But, he said he has to "block them out" and "lock-in."
More from Jefferson on friends talking trash:
He pointed out freshman defensive back Alontae Taylor, redshirt junior wide receiver Jauan Jennings and redshirt junior offensive lineman Drew Richmond as some of the players he knows on Tennessee.
Jefferson said he will have plenty of friends and family at the game. Those people include his mother, some high school friends, his sister and 2-year-old his daughter.
On his daughter watching him play:
"It's just another opportunity to go out there and get a win," he said. "Of course I'm happy to go back and see some of my friends, but I'm going there on a mission."
Scouting the Secondary
Jefferson said Tennessee's defensive backs look athletic from what the team has seen so far. He highlighted the freshman Taylor along with upperclassmen Micah Abernathy and Nigel Warrior. Abernathy and Warrior rank third and fifth on the team in total tackles, respectively.
He said he thinks the wideouts have done well in terms of getting separation from defenders. He said it's been a point of emphasis for wide receivers coach Billy Gonzalez.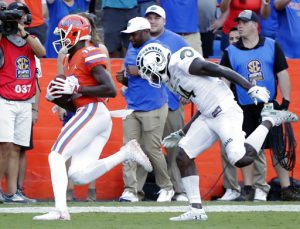 "Getting into SEC play you're going to see a lot of man coverage," Jefferson said. "You have to break quick, have quick feet and separate with your arms and your hands."
Heading into a Hostile Environment
Coming from Ole Miss, Jefferson said he's used to playing in stadiums like Alabama's Bryant-Denny Stadium and LSU's Death Valley. But, this will be his first time under the lights in Tennessee's 100,000 person stadium.
Jefferson on playing in SEC rivalry games: 
He said he told the younger players to enjoy playing in a place like Neyland Stadium and to stay focused.
"I like playing away games personally," he said. "I think it's unique."
He avoids getting too hyped up and overthinking simply by relaxing and taking it one day at a time.
"When the game comes I'll be pretty pumped and have a lot of adrenaline going," Jefferson said. "I just have to keep myself calm. If I just talk to my mom and my little girl then I'll be O.K."