After the first college football playoff rankings, the No. 1 Alabama Crimson Tide will face the No. 3 LSU Tigers on Saturday for a huge SEC match-up. Both teams are coming in extra rested off of a bye week. With Alabama being the favored team, how will LSU be able to produce against the No. 1 team in the nation?
Alabama's Strengths
With 2,066 passing yards and 25 touchdowns on the season, quarterback Tua Tagovailoa is helping lead the Crimson Tide's offense.
"His knowledge has been very helpful," Alabama head coach Nick Saban said.
While their offense has averaged 50 points a game, their defense is just as dominant. LSU transfer Defensive Back Savion Smith has 18 recorded tackles on the season as well as one of the teams pick-sixes.
"I watched him on tape he's doing a fine job, a fine corner. I'm happy for him and his family," LSU head coach Ed Oregeron said.
LSU Coming in as the Underdog
If facing the best team in the country wasn't enough, LSU is missing a key player this week due to injury. Tigers linebacker Devin White will be sitting out the first half of the game due to a targeting penalty. He currently leads the team with 76 tackles and 6 quarterback hits, as well as having two fumble recoveries. The team is looking to put pressure in the backfield.
"We feel like we can put a good rush on him," Oregeron said.
The improvement on their defensive line will allow them to stay fresh throughout the game.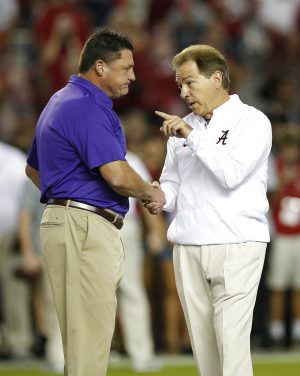 SEC Matchup
Alabama continually comes in dominant in games being consistent and mistake free. LSU is coming in with a big win against Georgia and a tough loss against the Gators. The Tigers finally have a pocket passing quarterback who can also run the ball. Having 1,544 passing yards and 250 rushing yards on the season.
This game holds high stakes for both teams with how the rest of their seasons will play out. The No. 1 team in the nation is looking to hold their place and LSU is looking to prove why they keep moving up the rankings. With experience on the game, Alabama is familiar with the big stage.