Calling Friday night's matchup between the Columbia Tigers and Union County Fightin' Tigers a thriller would be an understatement. The game featured multiple lead changes and eventually came down to the final at-bat. Columbia wound up falling just short in their 7-6 loss.
Despite the tough loss, multiple Columbia Tigers had strong performances throughout the evening. Brent Howard went 4-for-4 at the plate while also driving in one run. Ty Floyd also had a perfect day in the batter's box. He secured a double, a single, a walk and an RBI in three plate appearances.
Hayden Gustavson, Brayden Thomas and Cade Jackson each hit an RBI double at different points in the game. Thomas's came in the first inning and Jackson's came in the second inning. Gustavson, on the other hand, hit his in the fourth inning to tie up the game.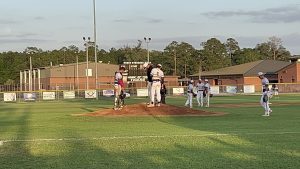 Columbia endured their fair share of struggles on the mound but also had some bright spots with their pitching. Grant Bowers pitched a solid game despite picking up the loss on the day; in 3.1 innings pitched, Bowers only allowed two hits, two runs and one walk. Additionally, Bowers only gave up one hit and zero runs in his first three innings on the mound.
Off To A Rocky Start In The First Two Innings
The Tigers' offense got off to a decent start. After Brent Howard led off the game with a single, he eventually made his way home on a blast to the outfield from Thomas. However, it was all downhill from there. Union County picked up two quick outs to keep Thomas stranded at second base.
When Union County stepped to the plate in the bottom of the inning, they immediately took control. Their strong hitting combined with Columbia's defense committing multiple errors set the stage for some early offensive fireworks. Before Columbia knew it, they went from a 1-0 lead to a 4-1 deficit at the end of the inning.
At the end of the first inning, Columbia trails Union County by a score of 4-1. Despite snagging an early run off of an RBI single from Brayden Thomas, Columbia struggled to contain Union County's offense in the bottom of the inning. pic.twitter.com/Io5NxXy2SO

— Jack Meyer (@jackmeyerespn) April 15, 2022
Columbia fared slightly better in the second inning. After Matt Dumas kicked off the inning with a walk, Jackson drove in a double to bring the run home. In the subsequent at-bat, Floyd knocked out an RBI double of his own that allowed Jackson to score as well.
However, Union County quickly halted Columbia's growing momentum. Despite managing to load the bases with just one out, Columbia's rally came to a crashing halt on a double play at home plate. After Thomas hit a pop fly into right field, Union County tagged Jackson out at home plate to finish off the top of the inning.
Two innings down, and Columbia trails Union County 5-3. Columbia put together a strong offensive showing, but despite having the bases loaded with only one out, Columbia's attempt to take the lead was halted on a double play that ended with Grant Bowers being tagged out at home. pic.twitter.com/QkCjuxERwX

— Jack Meyer (@jackmeyerespn) April 16, 2022
Although Union County still picked up a run in the second inning, their offense fizzled out after their hot start on the bats. With Columbia trailing 5-3 after two innings of play, they knew they needed to get some momentum on their side to have a chance in this one.
Heating Up In The Third Inning
The third inning did not feature much action on either side. Having said that, the fourth inning played an instrumental role in Columbia staying alive in this one. Jackson and Floyd each made their way on base; the former was walked, while the latter snagged a single. Jackson ended up scoring on a line drive from Brent Howard.
With one out and runners on first and second base, Gustavson stepped to the plate with a massive opportunity at hand. He immediately knocked the ball all the way into the right-field corner, driving Floyd home and sending Howard all the way to third. While Columbia once again finished the inning with the bases loaded on a double play, Gustavson's hit had officially gotten his team back into the game.
Tie ball-game! A deep blast into right field from Hayden Gustavson turns into an RBI double as Columbia and Union County are now tied up at 5-5. Columbia has a man on second and third with one out in the top of the fourth inning. pic.twitter.com/9YssFNaBZC

— Jack Meyer (@jackmeyerespn) April 16, 2022
"In my previous at-bats, first base was open, so I was getting a lot of off-speed pitches that weren't in the [strike] zone," Gustavson said. "They threw a curveball over the plate first pitch. I got a little under it. I thought I had a sac fly, actually, but the wind gave me a little boost to the fence."
Finally Taking A Lead In Inning #6
Two innings later, the score remained 5-5 despite some close calls for both teams. Floyd picked up a walk to start the sixth inning for Columbia. Two at-bats later, Howard hit a line drive directly towards Union County's second baseman However, the ensuing throw flew over the head of Union County's first baseman, allowing Floyd to score and Howard to make it to first safely. While Union County caught Howard stealing and picked up another out soon after, Columbia had finally taken the lead.
Columbia takes the lead! An arid throw from Union County allows Ty Floyd to score the go-ahead run. Columbia now leads 6-5 as we enter the seventh inning. pic.twitter.com/khDHu2qKJ4

— Jack Meyer (@jackmeyerespn) April 16, 2022
Meanwhile, Columbia managed to keep Union County off the board for four straight innings. Bowers led the charge defensively. His impressive performance on the mound allowed the team to claw their way back into the game.
"I just had to get locked in. My teammates helped with that, I just had to get into the zone and… get the job done," Bowers said. "I just let my fastball do the work, and I trust all my other pitches too. I just try to keep everyone off-balance."
Falling Apart In The Final Inning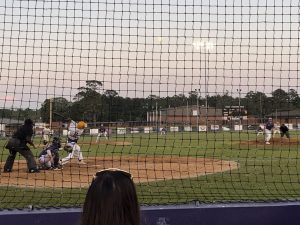 Columbia entered the seventh inning holding on to their 6-5 lead. Truitt Todd made it to first base after being hit by a pitch; he eventually made his way over to third base. However, none of the subsequent three batters got on base, leaving Todd stranded at third. It was now up to Columbia's defense to finish this one off and secure the win.
However, the seventh inning got off to a disastrous start. To kick things off, some confusion ensued from both dugouts on a call from the umpires. A pitch from Columbia far outside of the strike zone was initially called a foul ball. The umpire initially stated that the batter had made contact with the ball. Nonetheless, the umpire overturned the call.
Right after that, Union County's Trevon Lee took matters into his own hand. With the count now at 2-1, Lee knocked a ball out of the park to tie the game up. The Union County crowd and dugout went wild. The momentum had once again shifted in their favor. Things only got uglier for Columbia from there.
Huge 7-6 win against a awesome @_CHSBASEBALL_ @Trelee_8 with a doubter to tie it up in the the bottom of the 7th @ogquinten3 @JakeOSteen2 @Trelee_8 with multiple hitsand @BlakeAgner with a walk off bunt@eli_rimes with the win@ThePrepZone @GNVpreps @AinsliesTwoBits @CFreemanJAX pic.twitter.com/rbx2sAi2zH

— UCH BASEBALL (@UCHSBASEBALL1) April 16, 2022
The hits kept coming for Union County. Despite Columbia switching pitchers in a last-ditch attempt to halt Union County's momentum, the damage was already done. With a man on third base, Blake Agner hit a sacrifice bunt for Union County that sealed their victory. As the runner made his way home, Union County's dugout had already begun emptying out onto the field. Game over. Union County had pulled off the upset over Columbia.
Columbia loses in a heartbreaker. A sacrifice bunt from Union County's Blake Agner drove in the game-winning run. Final score: Union County 7, Columbia 6. pic.twitter.com/MSLAoeXxHU

— Jack Meyer (@jackmeyerespn) April 16, 2022
Columbia Head Coach Chris Howard expressed his disappointment with the loss after the game. While he noted some questionable calls from the officials, he acknowledged the team could have played better, especially on the offensive end. However, he also reaffirmed his belief the team will be able to bounce back moving forward.
"We just didn't get the job done tonight. We left several runs on tonight," Howard said. "Other than that, we put it into the umpires' hands, and that's what happens."
Looking To Regain Their Momentum Next Week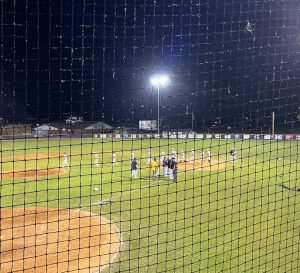 Friday's loss gave Columbia their third loss in their last six games. After starting out the year 10-1, the Tigers have faced some struggles as the season has progressed. From a packed schedule full of tough games to dealing with numerous injuries, Columbia has endured plenty of obstacles in the past few weeks.
Things will not get much easier for the Tigers, as they will have to play four consecutive games next week. They will kick this stretch off with a visit to Buchholz High School next Tuesday, where they will take on the Bobcats.
"A couple of guys are dinged up, so we're trying to stay healthy and stay focused," Gustavson said. "That's been a big thing, we've been losing focus early on lately. We need to clean it up and get focused from inning one to inning seven next week."