"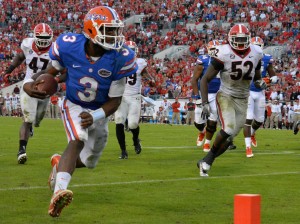 There is a possibility that starting Gator quarterback Tyler Murphy could miss the South Carolina game on Saturday because of a shoulder sprain.  Gator offensive coordinator Brent Pease says redshirt freshman Skyler Mornhinweg would replace Murphy if his shoulder injury proves to be too much pain to play through.
Pease has his hands full trying to fix a much-maligned offense that has been ravaged by injuries. He's now got yet another injury: one to his quarterback.  And now he has another injury to deal with saying Murphy has a 'sore' shoulder.
"He's sore, he's rehabbing, it's a situation where he's spending time in the training room," said Pease.
This injury is the latest in the laundry list of ailments for Florida. It was announced Monday that linebacker Antonio Morrison would miss the remainder of the season with a torn meniscus, making it 10 Gators who can no longer play this season due to injury. Murphy may have tweaked his shoulder during the Vanderbilt game, during which he threw for 305 yards but also threw three costly interceptions. Pease didn't find out about Murphy's shoulder until the day after the game.
"I think it's day to day, based on what the training room has to say. I know he was sore afterwards, [I found out] on Sunday when they come in and report," said Pease.
If Murphy can't go against the Gamecocks Saturday, redshirt freshman Skyler Mornhinweg will be under center. Mornhinweg also happens to be the last scholarship quarterback on the depth chart. Pease is disappointed that the season's circumstances have led to such an inexperienced player possibly being thrown into the fire.
"The thing that's tough on a kid in his situation is just experience. You hope you never have to play with a redshirt freshman, nothing against him, because he's a smart kid and he works hard, but in a developmental situation you hope you get into that sophomore or junior year before you're competing for a job or a backup role," said Pease.
Florida hasn't won against South Carolina since 2009 and that task may get harder with inexperience at the quarterback position.
For audio on Pease, click the links below.
Pease on when he found out about Murphy's shoulder