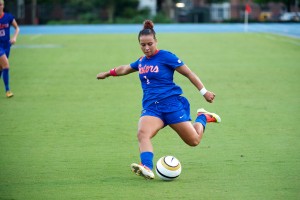 Being athletic was part of growing up in the Silver household. With two marathon runners for parents it was in the genes, but Florida soccer team defender Lauren Silver found soccer through her older sister, Brittney Silver.
"She's going to play soccer; I'm going to play soccer too. And that's how I started," Lauren Silver said. "I was playing soccer by the time I could walk."
When Silver, a Miami, Fla., native, was still learning the game, she wasn't necessarily a fan of the sport. Her favorite player was her sister, and she had no idea that just messing around with a ball on the sidelines while watching her big sister play would eventually lead her to playing for the No. 12 Gators soccer team.
But it wasn't a clear shot from childhood to college. Silver knew she wanted to play in college and when she was about 13 years old thought it was a definite possibility. After spending a few years playing for a team that caused her to doubt her potential she fell into a slump and all but quit on that dream. But she didn't give up on the game.
"I thought college would be really fun, but I kind of went into a slump," she said. "I was still playing, I still loved the game, but I didn't know until I was about 16 (years old). I thought 'yeah, this is definitely what I need to be doing,' and I got my act together."
At American Heritage-Delray High School her soccer coach, Steve Burgess, helped break her out of that slump. "He's someone I've look up to a lot when it comes to soccer. He helped me through a lot and I developed a lot when it came to soccer because of him," said Silver. "But I worked hard."
She would go on to make All-State, Sun-Sentinel and Palm Beach Post first-team selections as a center midfielder en route to two state championships in 2011 and 2010.
She emphasized her training, joined the Olympic Development Program in 2008, played with her club and high school soccer teams and trained independently. The constant work ethic and determination to get better – to be better – helped ease her transition to the college ranks.
Silver is still refining her game. A play style she categorizes as "blue collared," Silver is a scrappy, hard defender that isn't afraid to take the ball on goal.
"I think I can be a pretty composed player because when I do need to get into the attacking half of the field and execute and play a good ball I think that being composed is really important and I think I bring that to our team," she said. "It took a lot of time. I'm a junior and I'm still practicing it…going from this mentality where I need to win the ball like craziness, seeing red to having to quickly be soft on the ball and take good touches, it's really difficult. But I can see a definite progression in the way I used to play to how I play now and I'm getting that done."
Her first collegiate goal came during her freshman year in 2011 against Florida Gulf Coast University, and, although she is hopeful to add to her five career goals at Florida, she knows that understanding and playing within her role while setting up other players is what's important and best for the team.
"I think ultimately that's my job and that's what I like to do best," Silver said.
Turns out she prefers making the assist over scoring.