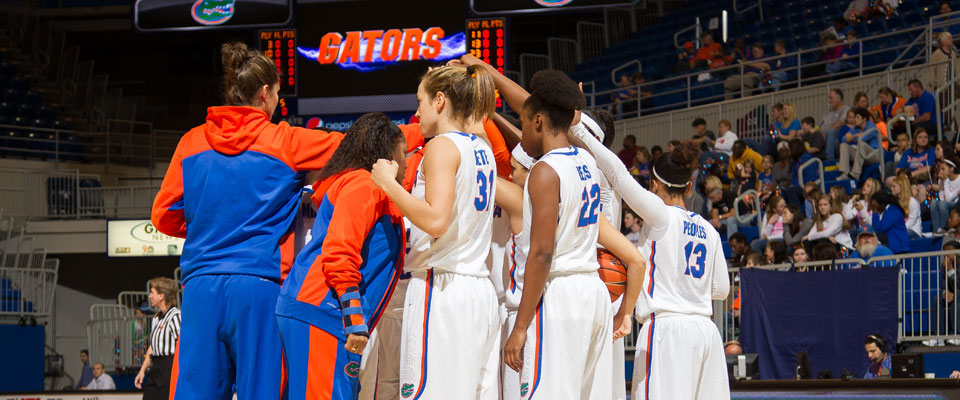 The Florida Gator women's basketball team is undefeated in the SEC at 2-0 and puts that undefeated conference record on the line when they host the Razorbacks of Arkansas tonight at 7:00.
The Gators are coming off what might be their biggest win in program history versus Kentucky on the road 83-73 last Sunday. Kentucky was ranked No. 6 at the time and the win moved the Gators to 12-3 on the season.
Gator assistant coach David Lowery discusses what the win in Lexington meant to not only the program, but to the women on the team — how hard work and great practice can bring extraordinary results.
"Great program win, just overall win for the program, the university, and especially our kids," Lowery said. " She (head coach Amanda Butler) deserves that. She's put in a lot of fight… she deserves that and our team deserves that from all the hard work they've put in the last few days."
But, the Gators must now look forward to their next test, 25th ranked Arkansas; the Razorbacks are 14-1 on the year and 1-1 in the SEC.
These two programs have met 30 times before with UF leading the series 22-8. Both teams have seen their fair share of success this season with Arkansas starting the season 13-0, while Florida is coming into tonight's game on eight-game winning streak.
David Lowery said his team will approach Arkansas just like they approached Kentucky — knowing their strengths and understanding what makes their opponent different.
"Very similar mindset," Lowery said. "What we've done here the last two, three, eight ball games is that we really focus on what we do best, and then we've tried to pick out a couple things that we think our opponents are very unique at. We really try to get our kids to buy into believing and trusting a game plan from a defensive standpoint — who we need to be aware of, who we need to stop."
To hear audio for this story, click below.
David Lowery 1 — On the team's big win versus Kentucky
David Lowery 2 — On their upcoming match up with Arkansas