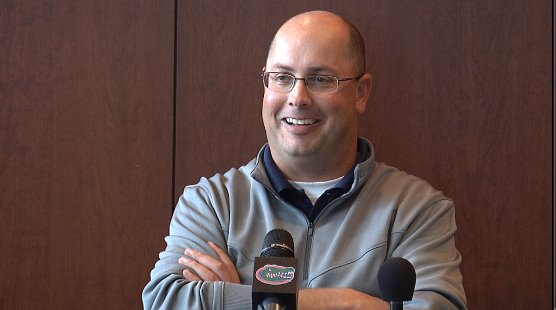 The Florida Gator football team is gearing up to hit the road for Nashville this weekend to take on the Vanderbilt Commodores. The Gators are coming off an impressive 38-20 victory after manhandling SEC East rival Georgia. With the win, Florida improves to 4-3 (3-3 SEC) and is looking to maintain that momentum on Saturday. Offensive coordinator Kurt Roper discussed the team's win against UGA, Treon Harris's first start, and the squad's preparation heading into this next match up.
On Saturday, the Gators ran for 418 yards on 60 carries – the most for Florida in an SEC game since 1975 with a physical rushing attack. Florida's dynamic duo of sophomore Kelvin Taylor and junior Matt Jones combined to rush for 389 yards and four touchdowns.  Taylor carried 25 times for a career- best 192 yards and two scores; while Jones ran 25 times for a career high 197 yards and two touchdowns. Roper discussed the offense's solid performance.
"I was just impressed with the way our guys played and competed; the energy and everything really," he emphasized. "They played with great passion and I was appreciative more than anything else."
However, according to Roper, for the offense to truly be successful true freshman Treon Harris needs to develop in the passing game. Harris, a Miami native from Booker T. Washington, only attempted six passes, completing 3-of- 6 for 27 yards in his first career start against the Bulldogs.  Roper says he is eager to see more production from him.
"Obviously we've got some work to do in the passing game and we need to grow," he said. "That's got to be a dimension we need in our offense in order to be successful and make plays."
Roper added that a lot of the focus throughout this week's preparation for Vandy has been on improving the passing game, and believes his young quarterback is becoming more familiar with the intricacies of the offensive scheme.
"He's ready for me to call more plays then what we called. Whether we're successful with them or not is a whole different discussion. He's been repping a lot more plays – drop back, moving pocket, or play action; he's repped a lot of our offense."
"We want to be a team that is playing smart, taking care of the football and growing," the first year offensive coordinator added.  "But there's no doubt Treon is going to have to do more and be a playmaker in the passing game."
Meanwhile, if the opportunity presents itself, fourth-year junior Jeff Driskel who was benched after four turnovers against Missouri could see snaps in the Wildcat formation like Matt Jones did on 3rd and 2 against UGA.
"Obviously that's a role Jeff can do really well at 230 pounds, 240 pounds if he is feeling really well," Roper elaborated on. "Now they've got to defend the pass more in that sense, too. So that role can obviously grow depending on how he is feeling."
In last year's Homecoming Game, Vanderbilt defeated Florida 31-17, ending a 22-game losing streak against the Gators.
And the message this week is crystal clear – the squad is ready for revenge.
"We're going to their house and we want them to experience the same disappointment that they gave to us last year," UF offensive lineman Max Garcia said. "We definitely have to redeem ourselves in that way. We're going out there to play football. It doesn't matter who we're playing against. But it is an added token just knowing that they embarrassed us last year in The Swamp."
The Gators (4-3, 3-3 SEC) and the Commodores (3-6, 0-5 SEC) face off Saturday at 7:30 p.m. with pregame coverage beginning at 4:30 on ESPN 850 WRUF.
For audio on the above quotes, please click below:
Garcia on getting revenge against Vandy