Neither the Georgia Bulldogs (6-3) nor the Auburn Tigers (5-4) are having the type of year they were expecting to have when the season started.
Both teams hoped to be atop of the SEC, but both have had a hard time stringing victories together with any consistency. In fact, both sides have had a hard time even settling on a consistent starting quarterback.
The Bulldogs used two quarterbacks in their win against Kentucky last week, as Greyson Lambert and Brice Ramsey combined for an underwhelming 90 yards and a touchdown. Georgia Head Coach Mark Richt expects his team to go with a similar multiple quarterback system for this Saturday's game.
For Auburn, head coach Gus Malzahn faces a similar situation. Although junior quarterback Jeremy Johnson played the entire game for the Tigers last week in their win against Texas A&M, his 132 yards passing were not enough to take control of the starting job for the remainder of the season.  Malzahn did not name a starting quarterback yet for this Saturday's game, and Richt expects to see both Johnson and freshman quarterback Sean White take snaps.
While the uncertainty remains at the quarterback position, the respective running backs for both teams are expected to carry the load offensively.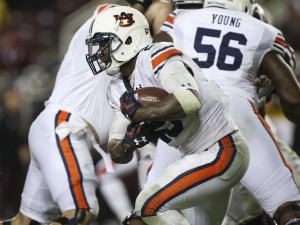 Junior running back for Auburn Jovon Robinson rushed for 159 yards last week, and seems to finally be fully recovered from an ankle injury that slowed his start to the season. Head Coach Gus Malzahn has been impressed with what he's seen from his running back these last two weeks. 
Georgia is still without star running back Nick Chubb, but sophomore Sony Michel showed he can also carry the load after running for 165 yards and a touchdown against Kentucky's defense last Saturday.
This will be the 119th time the two programs face off , with the sides both winning 55 times to go along with 8 ties.
The game will take place at noon on Saturday, November 14 from Jordan-Hare Stadium in Auburn Alabama.