The Florida soccer team suffered a 2-1 loss to Duke in the third round of the NCAA Tournament in Gainesville on Sunday to end Florida's season.  UF finished with a record of 19-4-1 overall with an 8-2-1 in SEC play.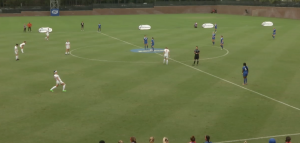 Florida opened the scoring when freshman midfielder Sarah Troccoli headed in a corner kick from senior Lauren Smith at 20:03. The goal was the earliest goal scored by the Gators in the 2015 NCAA Tournament.
The Blue Devils answered later off a set play of its own just over eight minutes later when Florida cleared the ball that found defender Christina Gibbons who sent a lofted ball into the box where defender Rebecca Quinn's header scored just inside the post for the goal, which tied the match at 1-1.
That was the score at halftime.  Duke coach Robbie Church explains what he said to the team at halftime.
Duke took the lead just five minutes into the second half in the 55th minute. The scoring play was started when forward Toni Payne won the ball at the top of Duke's box and brought it all the way to the top of the Gator box.  Payne sent in a cross that bounced wide and was recovered by forward Casey Martinez, who sent the ball back into the box, where the cross by Martinez found Taylor Racioppi, who slotted the ball into the net from five yards out. The goal by Racioppi was the eventual game winner as UF couldn't find an equalizer in the second half to send the match into overtime.
It was the last time in the Orange and Blue for UF senior midfielder Lauren Smith, defenders Claire Falknor and Christen Westphal. Smith played 83 minutes of the match while Falknor and Christen played the entire match. For Westphal, this was her 77th complete match of her career, which is one behind the Gators' all-time leader Lauren Hyde (2006-2009), who has 78. Westphal's career tally of 8,486 minutes, is also second all-time to Hyde as well, who has 8,595 minutes; Westphal's  94 consecutive starts at center back is second all-time to Karyn Hall (1998-2001), who has 100.
Florida coach Becky Burleigh said during her opening statement about the match and what it means. 
This was the Orange and Blue's 11th appearance in the NCAA Round of 16. The Gators were looking for their second consecutive Elite Eight berth and sixth in the program's 19th NCAA appearances.
Duke advances to face the region's top seed, Stanford, who will host the quarterfinal round at its home stadium on Friday.
Duke coach Robbie Church said on how much momentum this win provides for the trip to Palo Alto. 
Match time is set for 10 p.m. at the Laird Q. Cagan Stadium.