The Florida Gators (9-4) have won three of their last four games, won their SEC opener on Saturday against Georgia, and in that game shot above their season average in both field goal percentage and three point percentage. While the team is certainly happy with the way they've started out conference play, they know that there is still a long season ahead, and that road continues Wednesday with their matchup vs. Tennessee (7-6).
Wednesday's contest will be the Gators' first away SEC game of the year, and after going 1-8 on the road in SEC play last year, will look to tell a different story this season. The Vols are coming off of an 83-77 loss to Auburn in their first conference game of the season, but have had four days to get ready for their SEC East rival. Tennessee comes into the game ranked seventh in points per game and three point percentage in the SEC, but only 11th in field goal percentage at 49.3%. While that number may seem low, keep in mind that the Gators rank dead last in the SEC in field goal percentage at 47.4%, as well as in three point percentage at 28.4%.
Leading Tennessee's offense is Senior guard Kevin Punter, who's averaging a team leading 22.8 points per game and 3.8 assists per game this season, while also averaging 51.1% from the floor. In their last game against Auburn, Punter and fifth leading scorer, Admiral Schofield, combined for 53 of Tennessee's 77 points. Tennessee Head Coach Rick Barnes spoke on how much he's seen Punter improve this season. Leading the Vols on the boards is senior Armani Moore with 8.2 rebounds per game. Moore is also the second leading scorer on the team with 13.9 points per game.
Tennessee Head Coach Rick Barnes is in his first season at the University of Tennessee after spending the last 17 seasons at Texas. Barnes while at Texas won Big 12 Coach of the Year four times, reached the NCAA Tournament 22 times, and the Final Four once. Barnes talked about his first season at Tennessee and the transition he's had to make and what the team needs to do better moving forward this season.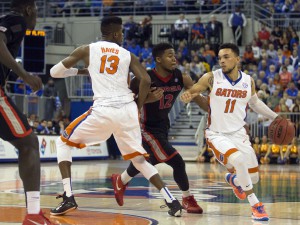 The Gators are coming off of their best shooting performance in weeks, shooting 42.3% from the floor and 40.9% from downtown in a 77-63 win over Georgia. KeVaughn Allen led Florida in scoring that game with 18 points on 5-11 shooting, while John Egbunu picked up his third double-double of the season with 12 points and 12 rebounds. Florida Head Coach Mike White discussed how he's seen Allen progress this season. Chris Chiozza has also been instrumental in the offense recently, racking up 18 assists and only two turnovers in his last three games, good for a 9:1 assist/turnover ratio.
This game will serve as Tennessee's home opener in the SEC, and mark their 30th season at Thompson-Boling Arena. The Vols have gone 5-5 in their last 1o SEC home openers, but have lost their last three to Alabama, Texas A&M and Ole Miss.
HISTORY: The last time the two teams met was on February 28, 2015, when Florida took down Tennessee in Gainesville, 66-49, behind Dorian Finney-Smith's 20 points and ten rebounds. Tennessee leads the all-time series between the teams, 72-56, although the Gators have won eight of the last 11 meetings. While Florida has kept it close in the all-time series, the Gators are 17-44 all-time in Knoxville.
INJURY UPDATE: Forward Alex Murphy and Center Schuyler Rimmer are both doubtful for Wednesday's game vs. Tennessee, while Head Coach Mike White said forward Devin Robinson is day-to-day with a chest contusion suffered last game vs. Georgia. Robinson left in the second half of that game, and didn't return following the injury.