ORLANDO, Fla—Former Florida Gators' quarterback Chris Leak is now coaching high school football. Leak was named the head coach of Edgewater High School on February 4th.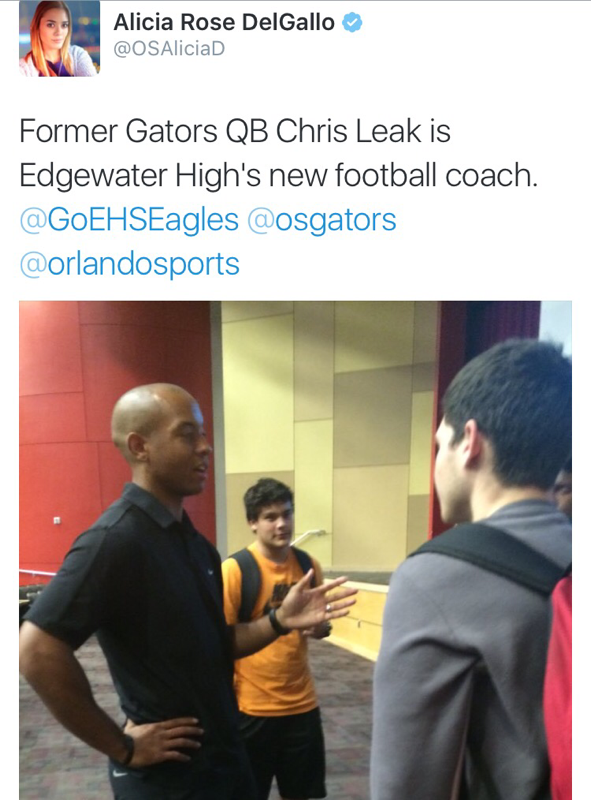 Year 2003 through 2006, Chris Leak played quarterback for the Gators. Wearing the number 11, he led Florida to a victory in the 2007 BCS National Championship Game. Throughout his time in college, he was coached under Ron Zook and Urban Meyer. Leak says his college years at Florida established his coaching potential.
After being signed as an undrafted free agent, with the Chicago Bears, but then not being signed to the official roster, he went on to play in the Canadian Football League and the Arena Football League.
He hung up his cleats and began his coaching career as a graduate assistant for the Gator Football team, under head coach Will Muschamp, in 2013. Muschamp later promoted Leak to the full-time receivers coach in 2014. After a sweep through the Florida coaching staff and firing of Will Muschamp, Chris Leak relocated two hours south of Gainesville and moved on to Tampa. He joined the Tampa Bay Buccaneers working in football development and youth outreach for the team, which led to him working under head coach, Lovie Smith, once again.
Leak has played for and accompanied a long list of great coaches throughout his career, including his father.  Leak states that his coaches could continue to play an impact on his life.
Chris Leak is Edgewater's fifth head coach in six years. This past season, the Eagles went 7-and-4 losing to Buchholz, a high school in Gainesville, FL, in the Class 7A Regional Quarterfinals.
Accepting this head coach position allows Leak to finally live at home with his wife and two daughters. His wife, Latria, is the assistant director of relations and marketing for the Orlando Magic.
Chris Leak and his family have been living in the Orlando area since 2007. With his knowledge and connections in the football world, Edgewater's football team is destined to make a breakthrough and it could lead to future Florida Gator recruits.