On Tuesday night, the Florida men's basketball team (15-8) will welcome the Ole Miss Rebels (15-8) to the O'Connell Center for the first time this season. The two teams met earlier this year in Oxford, where the Gators took down the Rebels, 80-71, despite a 22 point, four steal performance from Stefan Moody.
While Moody has led the SEC in scoring with 23.5 points per game, he hasn't been the Rebel's only offense as of late. In Ole Miss' most recent victory vs. the Vanderbilt Commodores on Saturday night, Moody shot an abysmal five of 25 from the floor, and three of 15 from three. Despite Moody's inefficient night, three other Rebel players put up 13+ points leading Ole Miss to an 85-78 victory over Vandy.
https://twitter.com/GatorsMBK/status/697089450342486017
Tuesday, the Rebels will also get back their best rebounder and interior scorer. Forward Sebastian Saiz, who missed the past six games due to eye surgery, is probable to make his return at the O'Connell Center vs. the Florida Gators. Saiz is averaging 12.8 points and 9.8 rebounds per game. Coincidentally, Saiz's last game before his surgery came against the Gators. A game in which Saiz had his way in the paint, scoring 17 points, while adding six rebounds.
With Saiz sidelined the past six games, senior forward Tomasz Gielo, a transfer from Liberty, has been lightning up the box score for the Rebels, posting at least 16 points and a block in each of his last two games. Gielo was essentially inexistent in the teams' first meeting this season, scoring seven points and picking up four fouls in 26 minutes of game action.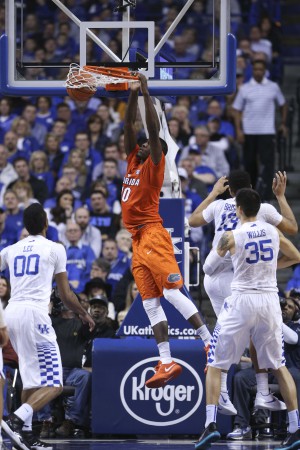 Despite winning two of their last three games, Florida's most recent contest against Kentucky reminded Gator fans of something the team struggled with early in the season, three point and free throw shooting. Against the Wildcats, the Gators shot 31.6 percent from downtown and 65 percent from the free throw line, after making a combined 80.2 percent of their shots from the charity stripe against West Virginia and Arkansas. Only two players scored in double digits against Kentucky, with no other player outside of John Egbunu and Dorian Finney-Smith scoring more than seven total points. Florida Head Coach Mike White discussed how even when the offense has been stagnant, the defense has always been there to back them up.
Although Florida lost to Kentucky, Dorian Finney-Smith was once again phenomenal, putting up 24 points and eight rebounds. Finney-Smith has now scored 20+ points in his last three games, and in five out of his last six contests. Finney-Smith also needs only six more points to pass former Gator great Erik Murphy on the Florida all-time scoring wish. If "DoeDoe" is feeling ambitious, he only needs 28 more points to pass Walter Hodge and become the 47th highest scorer in program history.
The Gators will be more than happy to see the Rowdy Reptiles in the stands Tuesday night, as the team has gone undefeated on the season in home games. Florida shoots 46.5% from the field in SEC home games, as opposed to 39.3% on the road in in-conference matchups.
INJURY UPDATE: Both forwards Kevarrius Hayes and Justin Leon have been taken off the injury report. Forward Alex Murphy still remains out indefinitely with plantar fasciitis in his right foot, and will miss his tenth straight game. Ole Miss Forward Sebastian Saiz is probable after missing six games due to eye surgery.
BROADCAST INFORMATION: Tuesday night's game tips off at 9 P.M. at the O'Connell Center and can be seen on ESPNU with Rich Hollenberg and Dino Gaudio on the call. The game can be heard live as always on ESPN Gainesville 95.3 FM with Mick Hubert and Mark Wise on the call.
90'S NIGHT: The Florida Gators have also announced that Tuesday night is "90's Night" at the O'Connell Center. Bring your best jean jacket and tie dye to the O'Dome!