GAINESVILLE, Fla—The 22nd ranked Florida women's basketball team beat the Vanderbilt Commodores 79-67 in Gainesville Thursday night.
The Commodores marched into town holding a decade of dominance over Florida; the Gators had not beaten the Commodores at home since 2006. But all that would change on this night.
Both teams traded baskets and the lead throughout the duration of the game, however it came down to Florida players rising to the occasion and outshining the Commodores. The Gators' head coach, Amanda Butler credits the team's communication for the outcome of the game.
"We knew that we were going to win… because they weren't going to let each other down."
The Gators' Greece native, Eleanna Christinaki, roamed through the Commodore defense and earned a career high 22 points. As the youngest player on the Gator roster, the freshman took charge and orchestrated game-long momentum that carried over to her teammates. Christinaki has been named SEC Freshman of the Week three different times this season.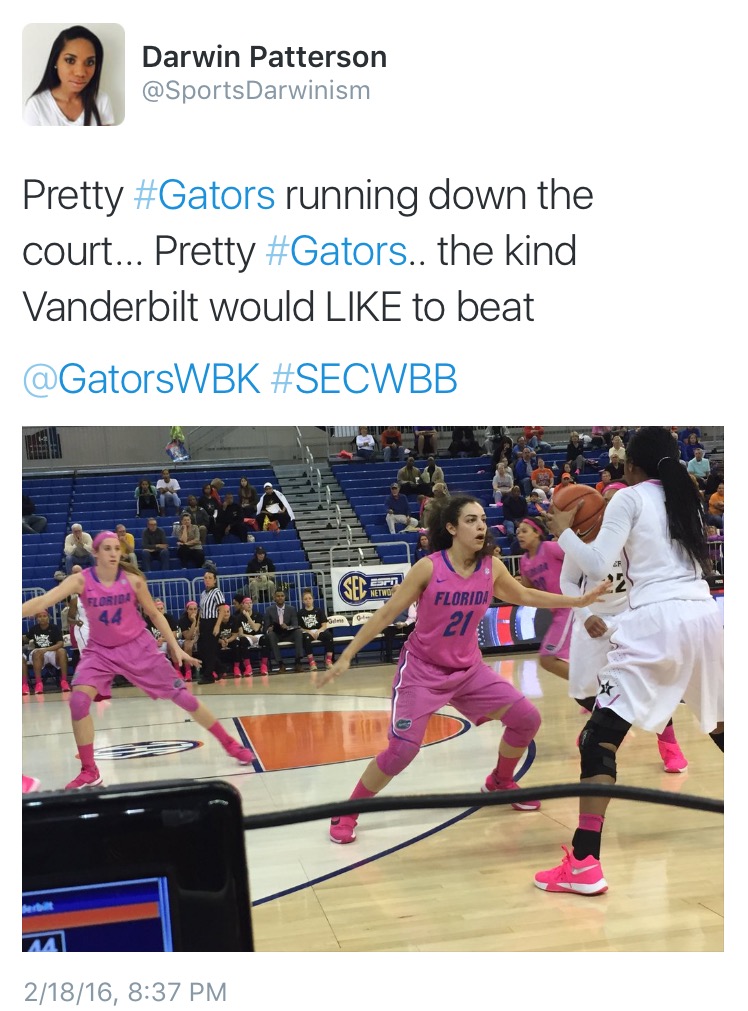 Ronni Williams also heated up for Florida. Williams snagged her eighth double-double of the season, after concluding her night with 10 points and 12 rebounds.
Vanderbilt put its anchor down and did not back down easily. Marqu'es Webb scored 17 points and Rachel Bell added  16 which kept Vanderbilt around into the final minutes of the game. The Commodores kept Gator fans on the edge of their seats when they would drain three-pointers from downtown and answer to almost every Florida basket. Vanderbilt finished off their night with shooting 46.4 percent from the field. Amanda Butler highlights that Vanderbilt made her Gators work for it.
Florida visited the free-throw line 34 times and made 64.7 percent of their free-throw attempts.
With SEC teams highlighting breast cancer awareness and honoring Sandra Kay Yow, Florida set aside the orange and blue to sport all pink uniforms. The pretty in pink Gators displayed a pretty fourth quarter to outlast the Commodores. In the final minutes of the fourth quarter, Vanderbilt had four players sporting four fouls. This fueled Florida to kick it into gear and go on a run to seal the deal.
At the final whistle, The Gators chomped down on their 20th regular-season win, the first time since 2009 Florida has won at least 20 games in a season.
Mission complete against the Commodores, the Gators now travel to Athens, Georgia for a rematch against the Bulldogs on Sunday. Amanda Butler said Eleanna Christinaki was under the impression that the team would be visiting Athens… Greece!