GAINESVILLE, Fla—The half-time buzzer sounds off. She looks up at the scoreboard one more time, walks towards the tunnel as she high-fives Gator fans of all ages who are eagerly leaning over the rails screaming, "Go Gators" and then she's headed to coach up her team for second-half play.
This routine sounds like the routine of any other coach, but Amanda Butler is not your ordinary head coach.
Just as you can always expect the hallways of the Stephen C. O'Connell Center to be set at a cold temperature and lit with florescent lights, you can also always expect to see a pair of orange and blue Florida Gator flip-flops strategically placed outside of the team's locker room, patiently waiting for coach Butler.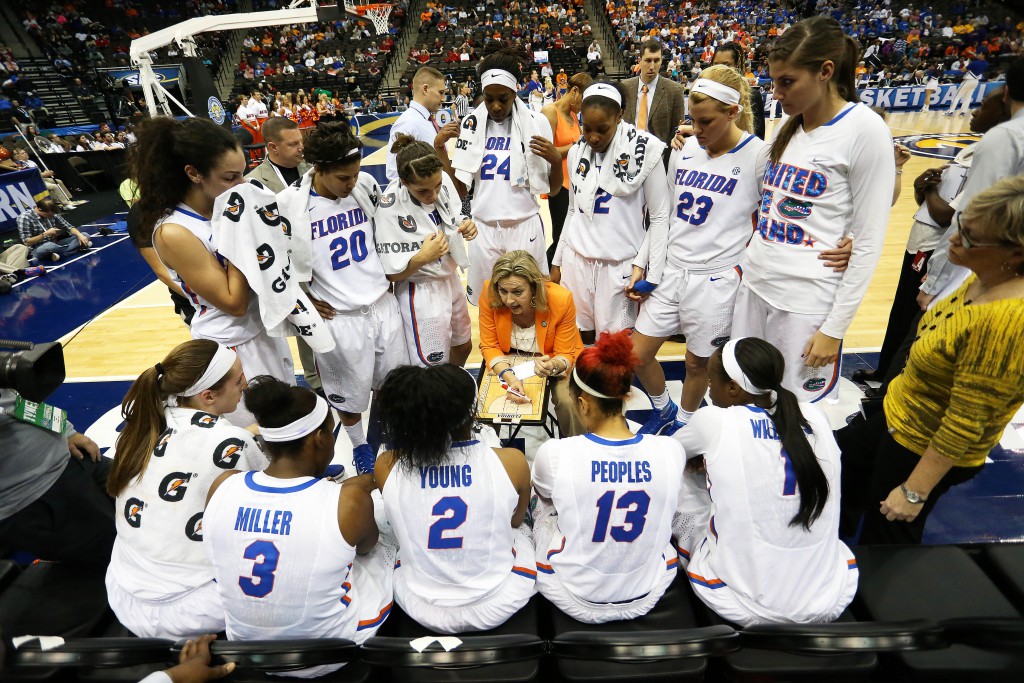 As the game day heels come off and she slides into her game day flip-flops, women everywhere can picture her taking one big sigh of relief. However, when women and men everywhere take a second and look deeper, they will see that this is just an illustration of how Amanda Butler is on another level when it comes to friendship, going above and beyond being a role model, and exceeding the height of expectations in the category of coaching.
The 2015-2016 season was her ninth year as the coach of the Florida Gators.
Most people know her to be court side coaching up thirteen hungry Gators while doing things like throwing her clipboard down after a questionable call by the referees, then quenching her thirst by forcefully squeezing a Gatorade bottle full of cold Gatorade as if she were a player.
Most of those people fail to realize that coach Butler was once a hungry Gator guard who started 99 games for the Orange and Blue, out of the 114 games of her college career.
During the 1995-1996 season, the then-Florida head coach Carol Ross hired Butler as the Gators' assistant coach—you could say she just kept coaching.
Assistant coach Shimmy Gray-Miller just finished her first season under Amanda Butler and when asked to go in detail and describe what it is like working with Butler, she did not know where to begin because there's so much she could say and wanted to say.
There was one detail that would probably cause someone to get called for "three seconds" for standing in the paint longer than three seconds—in pure amazement. Coach Shimmy pointed out how Amanda Butler can still be completely energized, even after getting very, very little sleep.  
It was also mentioned that during the season, by four or five o'clock in the morning, coach Butler is wide awake and ready to conquer the day. This small detail is known because she will send text messages to her coaching staff at this time with motivational quotes and plans for the day, of course.
Throughout the 2015-2016 season, she talked to the media about wanting this Gator team to not be just one dimensional. With a very versatile roster this season, the Gators were able to go out on the hardwood and beat their in opponents in more than one way. It was very hard for their opponents to scout and prepare to compete against these Gators because they were not just one dimensional.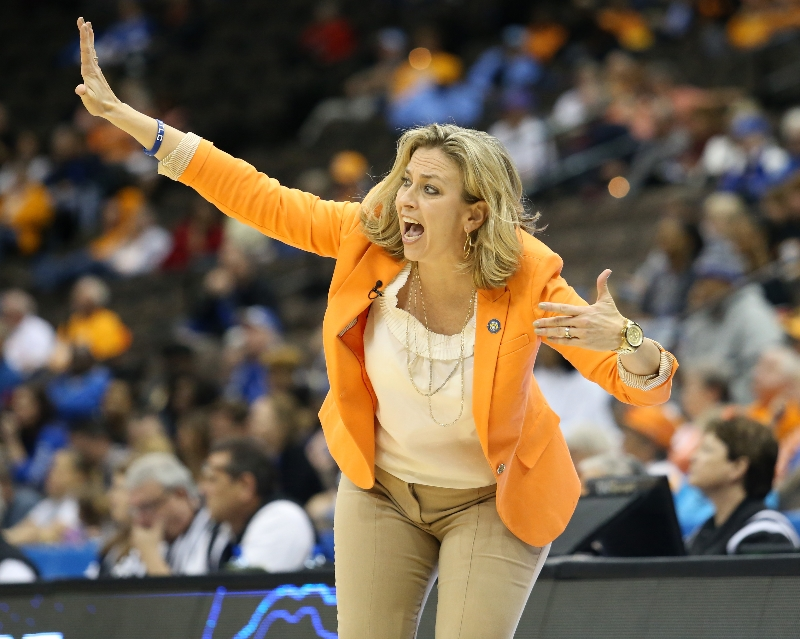 That speaks to how versatile and well rounded of a coach Amanda Butler is. It is not easy to scout or prepare for what she has up her sleeve next, or better yet, what X's and O's she will draw up next.
Janna Magatte is the Executive Director of Girls Place Inc. located in Gainesville, Florida and when asked to speak about Coach Butler, she was more than eager to do so. Magatte expressed how Coach Butler and the Gators have such an impact on all of the girls involved with Girls Place.  Amanda Butler, her coaching staff and her players are known for stopping by Girls Place to hang out with the girls, inspire the girls, and of course, give a half-time pep talk during the girls' championship basketball game.
Back in 1997, Amanda Butler recruited Janna Magatte out of high school. Magatte did not end up playing for Coach Butler, but she would later work for Coach Butler at the University of Florida, as the Director of Basketball Operations.
If you're attending a Gator women's basketball game, you would probably be entertained, at halftime by the Dazzlers busting out some sweet moves. To an outsider, that sounds very appealing. Until you find out that Amanda Butler can spit some rhymes while doing karaoke.
Grab a referee and tell him or her to call a personal foul on Amanda Butler for never sharing this information with the public—that's just foul. She also never shared her love for legendary rapper LL Cool J and his famous single, I'm Bad, that's worthy of a technical foul.
She's a Mount Juliet, Tennessee native which pays homage to her sweet southern accent. Butler graduated high school in the top ten percent of her senior class. Throughout her time back in Tennessee, she grew up in a basketball world with good friend, Honey Brown. The two were inseparable and it all began with playing in the Junior Pro League together.
"Rabbit" and "Scissors" were the names of the plays these two young basketball stars drew up together and apparently defenses could not stop them. Along with more hairspray and high volume hair, Amanda and Honey had high hopes of dunking at a young age. The duo would practice the "Oop" daily, which was intended to be an "Alley-Oop." At the time, the two couldn't quite dunk, so it would result in layup, but the high hair and high hopes is all that matters.
Honey Brown is an assistant coach for the women's basketball team at the University of North Carolina at Asheville. When Honey was contacted in regards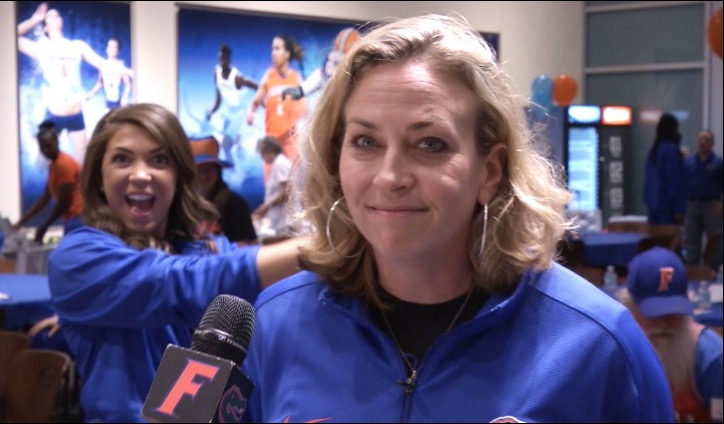 to an interview about her long-time friend, Amanda, along with everyone else, she couldn't say enough about her. However, you could say Honey is on the list of people who knows Amanda better than anyone else. You could feel how deep the friendship goes in the tone of Honey's voice when answering questions.
Honey elaborates on the connection with Amanda starting back at a young age.
"We've never really lost touch and that's been a good thing in my life"-Honey Brown
In basketball, there's your shooting hand and then there's your hand that guides the ball. With her excelling as a player and now as a coach, Amanda understood that technique from the very beginning. But what everyone else has picked up on is that this is just another illustration of Amanda Butler having a positive impact on lives. As motivation, she's the shooting hand and as a role model or mentor, she's the guiding hand.
At the end of regulation, like she does for halftime, she will step out of her heels and into her flip-flops. A consistent routine of being on another level.