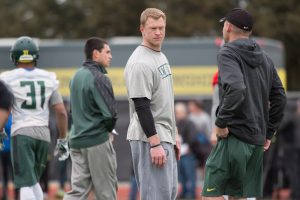 It was only three years ago that Blake Bortles was the starting quarterback for the University of Central Florida Knights. In 2013, Bortles' last season, he led the Knights to their first major bowl victory in the Tostitos Fiesta Bowl against Baylor. Those three years must seem like a lifetime ago for some UCF faithful.  Bortles is now playing in the NFL with the Jacksonville Jaguars, then coach George O'Leary resigned, and the Knights suffered through an 0-12 record last season.
Enter new head coach Scott Frost.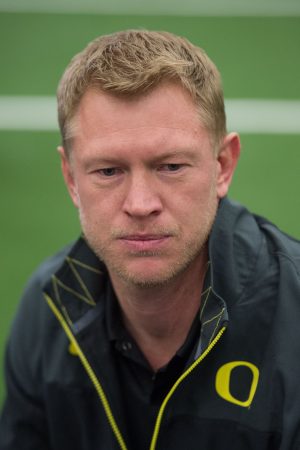 The 40 year old Frost, a former Nebraska quarterback, was hired in December of last year. He has been an assistant with the Oregon Ducks since 2009 and offensive coordinator since 2013. This will be his first head coaching job and he is taking over a team coming off its worst season in program history. Frost believes that the strength of the team to start off the year will be the defense.
Frost does see a bright future for the program and likes his team's potential.
In Frost's first season as Oregon's offensive coordinator, the Ducks set a school record for total offense, with 7,345 yards and an 11-2 record. The Knights finished last in FBS in total offense last year, gaining an average of just 268.4 yards per game. In scoring offense, UCF ranked 125th out of 127 teams and averaged just 13.9 points a game. Given Frost's offensive pedigree, UCF fans can only hope that he'll be able to turn the Knights into an offensive powerhouse in the future.
https://twitter.com/UCF_GKC/status/725853034459197440