For the seventh season in a row No. 10 Texas A&M Aggies (3-0, 1-0 SEC) will take on No. 17 Arkansas Razorbacks (3-0, 0-0 SEC).
The Aggies will look to extend their win streak against the Razorbacks to five in a row. The story for this week's showdown lies not only at the quarterback position, but is also composed of a strong Aggie defense and a resilient Razorback team.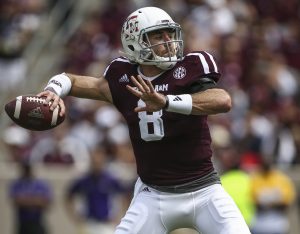 Trevor Knight
Despite puzzling numbers on the stat sheet, Knight's offensive game has worked for the Aggies.  Head Coach Kevin Sumlin said that it has been a process for both Knight and the coaching staff. Although Knight is not always right on target, Sumlin said that he gets better every game and ultimately, he is "winning".
2016 Numbers
52.9 percent completion
830 yards
Five touchdowns
Austin Allen
After being the back up to his brother Brandon the last two years, Austin Allen has been shown that he too can shine as the Razorbacks starting quarterback. Allen played a key role in the Razorbacks double overtime win against TCU and as a result, he was named  SEC player of the week.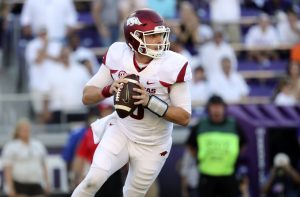 In that game Allen threw for 233 yards and added three touchdowns, one of which was a five yard run to give his team the 41-38 win in the second overtime.
2016 Numbers
67.1 percent completion
655 yards
Seven touchdowns
Real recognize real.
@davidpollack47 showin' our defense some respect ✊
#ItsAboutUs #AggieFBLife pic.twitter.com/FJRCOwuXrR

— AggieFBLife (@aggiefblife) September 19, 2016
Keys for the Agggies
The Aggie defense will have to be strong against a strong-willed Arkansas offense. Arkansas Head Coach, Bret Bielema said that a lot of attention will be on sophomore Daylon Mack. Bielama said that the 320-pound defensive lineman is a big threat to Arkansas because of his ability to move so quickly. In addition, the Aggie defense has threats in defensive ends Daeshon Hall and Myles Garrett who together, averaged 1.5 sacks a game in 2015.
https://twitter.com/RazorbackFB/status/778620832696242176
Keys for the Razorbacks
Possibly being the first big test of the season, the Razorbacks are very familiar with close games. In last year's meeting, the Razorbacks went into overtime after a late touchdown in the fourth quarter, but could not hold on losing the game 21-28. However, beating TCU in double overtime should have the Razorbacks prepared for Saturday.
Bielma said that a large aspect of that win was the coaching staff's dedication to teach the players how to prepare for overtime situations. So if they should encounter another overtime thriller with the Aggies, the Razorbacks have had practice and recent experience to prove they can handle that kind of pressure.
Kick off is Saturday at 9 p.m. on ESPN.