Mississippi head coach Hugh Freeze knows one thing for sure, Arkansas is going to play angry.
After losing 49-30 to top-ranked Alabama on Oct.8, the No.22 Razorbacks will still be trying for their first SEC win of the season when they host No.12 Ole Miss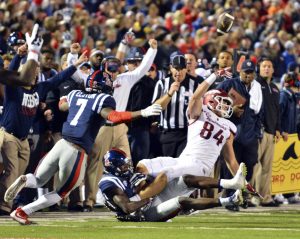 on Saturday. The Rebels are looking to make it three wins in a row, having scored 40 points or more in their last two games.
One of the big concerns for Arkansas head coach Bret Bielema is Rebel QB Chad Kelly. The senior is constantly improving his game and Bielema identified his running game as a much-improved threat. Last season, the 6-foot-2, 224-pound QB rushed for 500 yards and 10 touchdowns. This season, he's at 124 yards with one touchdown. Through the air, he's notched 1,596 yards, good for 21st in the country. His 163 QB rating is 11th.
This will be Ole Miss' first true road game of the season (they opened the season in a neutral site). Freeze said Fayetteville is not an easy place to perform in.  Ole Miss last visited in 2014, which resulted in a 30-0 loss. Arkansas holds a 34-28-1 all-time advantage, including the wild 53-52 OT win in Oxford last season.
To contain Mississippi, the Razorbacks must rely on their defense. They'll be without LB Dre Greenlaw because of a foot injury that could sideline him all season. But Dwayne Eugene is stepping up in his spot. As a team, Arkansas is better on defense, holding offenses to 218 passing yards per game and 180 rushing yards. Ole Miss clocks in at 234 and 218, respectively. Running back Rawleigh Williams III should get the bulk of the work. The sophomore is 13th in the country with 605 yards. He's also scored five touchdowns and is a small receiving threat too, with 62 yards on six receptions. QB Austin Allen stacks up equally, if not better than Ole Miss' Kelly. Allen has 1,632 passing yards with 15 touchdowns and five interceptions.
Bye Week: Blessing or Curse?
The Rebels are coming off a bye week, but Freeze doesn't expect any rust from his team. He welcomed it, seeing it as a chance to rest up. Freeze also mentioned that there should be no concerns about being sluggish because it's an SEC road game, where adrenaline is plentiful. Bielema thinks bye weeks lead to coaches getting creative in their play calling, something he notes Freeze does often.
How They Stack Up
              Ole Miss
Points per game: 41.6
Points allowed per game: 29.6
Total Yards: 490.4
Yards passing: 333
Yards rushing: 157
            Arkansas
Points per game: 35
Points allowed per game: 27.5
Total Yards: 448.3
Yards passing: 272
Yards rushing: 176.3
Kickoff is set for 7 p.m. on ESPN.