When Vernon Hargreaves left the Florida Gators after his third season, he was already considered a leader. With the Gators, Hargreaves earned first-team All-SEC honors in all three seasons. During his time with the team, he played in thirty-six games. Going to the Bucs with the No.11 pick, Hargreaves was the first Florida player taken in the 2016 NFL Draft.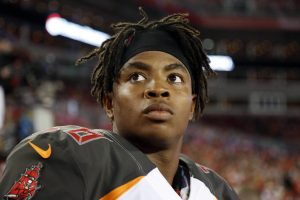 Now less than a complete season with the Tampa Bay Buccaneers, Vernon Hargreaves is already proving he's a natural-born leader.
Vernon Hargreaves' Buccaneer Era
After Sunday's road win against the Chargers (5-7), Tampa Bay head coach Dirk Koetter recognized his rookie cornerback as being a real game-changer.
Communication is key in any sport, but especially in football. Vernon Hargreaves has been key for the Buccaneers this year in talking with his teammates and making big plays. In Sunday's game in San Diego, a hit by Hargreaves ended up being a touchdown for the Bucs. Hargreaves hit Charger wide receiver Tyrell Williams, knocking the ball out of his hands. Tampa Bay's Lavonte David picked up the ball and ran it in for a touchdown.
BUCCANEERS WIN!

Tampa Bay is now tied with the Falcons for first place in the NFC South. pic.twitter.com/NXE9RxDduy

— NFL on ESPN (@ESPNNFL) December 5, 2016
Vernon Hargreaves has played in all twelve games for the Buccaneers so far. Hargreaves has a total of 59 tackles this season–52 of his own and assisting in 7. His best game tackling-wise came in Tampa Bay's week 8 loss to the Oakland Raiders (10-2). Hargreaves totaled eight tackles in that game, none of which were assists.
Already, the cornerback has recorded for more tackles in his rookie-NFL season that he did in any single season with Florida. In total, the former Gator recorded 121 tackles during his time with Florida. The 2014 season was Hargreaves' most efficient tackling season, where he ended the season with 50 tackles–31 of which were solo tackles.
The Final Weeks of the 2016 Regular Season
After Sunday's win against the Chargers, the Tampa Bay Buccaneers are now tied for first place in the NFC South with the Atlanta Falcons (7-5).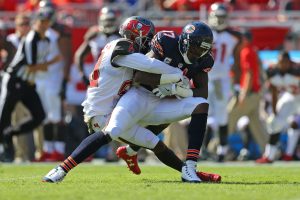 As far as the regular season goes, Vernon Hargreaves still has four more games to add on to his growing list of tackles with this season. In these next four weeks, Hargreaves and the Bucs will play the Saints (5-7) twice, the Cowboys (11-1) once, and have a rematch against the Panthers (4-8) in Tampa.
The Buccaneers next play at home against the Saints on Sunday.